Lawrence police arrested a 29-year-old Omaha, Neb., man early Friday morning in connection with a shooting incident in a Lawrence restaurant parking lot.
No one was injured in the incident, but three cars were damaged by the gunshots, said Lawrence Police Sgt. Richard Nickell.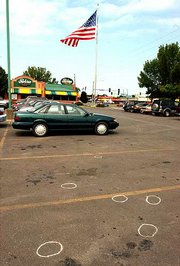 Nickell said the incident occurred about 3 a.m. Friday in the Perkins restaurant parking lot at 1711 W. 23rd.
Several people were in the parking lot and two cars drove through. Angry words were exchanged between two groups of people, some of whom were in cars, Nickell said.
At some point, the driver of one of the cars pulled a hand gun and began firing it, Nickell said. The driver appeared to be shooting randomly at the ground rather than at any person, Nickell said.
The driver of that car left, then came back into the lot again, Nickell said. A passenger in that same car got out and started shooting at the ground with a pistol or a handgun and the car left again, Nickell said.
A police officer near the scene reported hearing 10 to 12 gunshots total, Nickell said.
Police got a description of the car from witnesses and broadcast the description on police radio. A Kansas University police officer spotted a vehicle matching that description traveling north on Iowa Street at the 19th Street intersection.
KU police followed the vehicle and called Lawrence police. Lawrence police stopped the car in the 200 block of McDonald Drive, Nickell said.
Of the four people in the car, only the driver was arrested, Nickell said.
Police were still investigating the incident Friday.
Copyright 2018 The Lawrence Journal-World. All rights reserved. This material may not be published, broadcast, rewritten or redistributed. We strive to uphold our values for every story published.