Olathe North goalkeeper Elizabeth Casey fiddled with her gloves and shifted her weight from one leg to the other and back again.
Then she looked behind herself toward the goal, just to make sure it was still there and that she hadn't ventured too far from the net.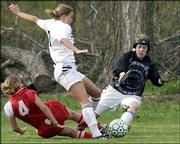 Who could blame Casey for double-checking her position? It was midway through the second half of the Eagles' soccer game against Free State High, and she hadn't touched the ball in nearly 10 minutes.
Heck, it took the Firebirds 26 minutes after the half began to get their first shot on goal.
Despite getting shut out 3-0 by Olathe North (6-4) on Thursday afternoon at the FSHS field, Firebird coach Jason Pendleton said the lack of scoring didn't mean his team wasn't executing.
"In the first 15 to 20 minutes I think we did a good job creating some dangerous offensive opportunities," Pendleton said.
In fact, Free State (3-7-1) had the first legitimate scoring opportunity. The Firebirds' Katy Vormehr headed the ball across the goal box toward the right side of the net, but it barely missed and sailed out of bounds.
The two teams played even after that until Olathe North broke Free State's defense and converted on two very opportunistic chances.
After the ball ricocheted out of the goal box on an Eagle corner kick in the 33rd minute, it landed at Olathe North forward Alex Williams' feet. She booted the ball through the middle of the box and a mass of people for the first score of the game.
Less than four minutes later, Eagle midfielder Lindsay Vaughn launched a 35-yard bomb over everyone including Free State goalkeeper Alicia Sellon for Olathe North's second goal.
"With pure soccer skills, they are the better team," Pendleton said of the Eagles, who totaled 14 shots on goal to the Firebirds' seven. "We can execute at our best, but in an 80-minute game things are going to happen and we're not always going to be in the right position."
Despite the loss, Free State's coach said he expected his team to improve to the point where the Firebirds might be able to surprise someone in the post-season.
"That's something the girls have got to work on by themselves during the offseason," he said. "With three weeks left in the season, we can only improve so much."
Copyright 2018 The Lawrence Journal-World. All rights reserved. This material may not be published, broadcast, rewritten or redistributed. We strive to uphold our values for every story published.