Struggling to score runs recently, Lawrence High's baseball team broke out for a 5-2 victory over Olathe East on Tuesday at Ice Field.
The Lions (6-5 overall, 5-1 Sunflower League) started slowly, sending the minimum six batters to the plate to open the game.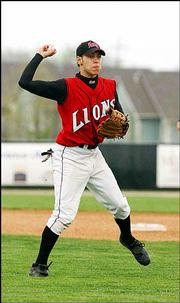 "We went pretty quietly the first two innings," LHS coach David Petry said, "and they could have hung their heads and said here we go again, but they continued to battle."
LHS junior Taylor Martin struck out the first two Hawks in the third inning, but gave up an unearned run before striking out cleanup hitter Aaron Smith to end the inning and strand two runners.
In the bottom of the inning, Lawrence doubled its run total from the past two games, scoring four runs on three hits, an error, a hit-by-pitch and a steal of home by Kyle McManness.
"I knew we were having trouble scoring," Martin said, "but I was confident that our team would come back and have a good inning, and they did. They did a good job of getting runs in."
Mike Morrell led off the fourth with a stand-up triple and scored on Derek Bailey's single. Bailey stole second, moved to third on a wild pitch and scored on an error by Olathe East second baseman Ryan Chabon.
Two batters after McManness stole home, Chris Johnson scored on a single by Joe Bell.
"That was encouraging to see," Petry said, "but I told them that's a start but now we need to work on some consistency."
Olathe East, 5-3 overall and ranked No. 8 in Class 6A in the Kansas Assn. of Baseball Coaches poll, added a run in the fifth inning on a two-out RBI double by Chabon, but Martin settled down and forced John Doull to pop out to Tommy Mangino at third base.
Rob Scott drove home the Lions' final run with a double in the bottom of the fifth.
Martin finished with five strikeouts and allowed seven hits in seven innings to improve to 4-0.
"He continues to pitch well for us," Petry said. "He's thrown well in all four of his outings and hopefully he continues to do that for us because we're going to need him."
Lawrence's next game is against St. Louis Parkway South in the River City Baseball Festival at 8 p.m. Thursday at Ice Field. The three-day event will feature 16 teams taking part in 22 games 11 at Ice Field and 11 split between Free State High and Kansas University's Hoglund Ballpark.
"There will be a lot of good competition," Petry said, "and we'll see a lot of quality pitching so it will be three good tests for us and a chance for us to get better."
Lawrence High 5, Olathe East 2
Olathe East 001 010 0 2 7 1
Lawrence High 004 100 x 5 7 2
WPTaylor Martin (4-0). LPFine.
2BOE: Matt Feldman, Ryan Chabon; LHS: Derek Bailey, Rob Scott. 3BLHS: Mike Morrell.
LHS highlights Bailey, 2-for-3, 2B, SB, 2 runs; Rob Scott, 1-for-2, 2B, RBI.
Copyright 2018 The Lawrence Journal-World. All rights reserved. This material may not be published, broadcast, rewritten or redistributed. We strive to uphold our values for every story published.