Rehelio Samuel wishes the job he has held for 30 years didn't have to exist.
Samuel, director of human resources for the city of Lawrence, is in charge of enforcing civil rights laws for housing, employment and public accommodations.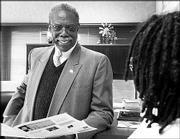 "Our goal is to work ourselves out of a job," he said.
Samuel, 69, will receive this year's Buford M. Watson Jr. Public Service Award from the Lawrence Chamber of Commerce. The annual award is named for the former city manager who hired Samuel in 1972.
Samuel began fighting for civil rights while a teen-ager growing up in New York City. He was part of the city's Youth Council, a youth governing board.
After attending the University of Puerto Rico and the University of Maryland, he served 20 years in the military mostly with the U.S. Army working in the Social Action Services division. Most of the work was spent improving race relations on military bases.
"You were bringing the troops together of different races and genders and what have you," he said. "A lot of people in those years had not had much of an opportunity to interact with people of different races."
In 1972, Samuel decided to come to Lawrence to be closer to his son, who was attending Kansas University.
Samuel's first task for the city was to draft an ordinance addressing the issues of civil rights, contract compliance and affirmative action in Lawrence. He's been tweaking the ordinance and enforcing it since.
"My job is to protect the rights of all people, regardless of race or gender," he said. "I think we must have a balanced responsibility in enforcement, information, education, outreach and training."
Samuel's office presents seminars on such topics as equal opportunity laws and housing rights.
Though Lawrence has made progress in the last 30 years in discrimination, he said some people have become complacent.
"It was a lot easier to get things done right after the movement (in the 1960s)," he said. "It was on the front burner. The issues of discrimination in all its many forms were very much issues being addressed."
Samuel said he expects discrimination complaints to rise as the economy worsens.
"A lot of people find themselves out of work," he said. "Everybody's uptight, which creates a problem."
In addition to his work with the city, Samuel has been active in many community organizations, including Douglas County United Way, ECKAN, Douglas County Legal Aid Society and the American Red Cross.
Samuel also has received these awards: the Weick Award for innovation and achievement in the promotion of individuality and diversity from the Lawrence Alliance; the Grundy Award for enduring commitment to peace and justice, also from the Lawrence Alliance; and the Outstanding Community Achievement of Vietnam Era Veteran award for service during a time of war and community achievement in times of peace.
"I'm one of those persons, if I'm able to help someone to help themselves, then I'm happy," he said. "I don't look for awards. Any awards I receive I accept on behalf of my staff, my commission and my family."
Copyright 2018 The Lawrence Journal-World. All rights reserved. This material may not be published, broadcast, rewritten or redistributed. We strive to uphold our values for every story published.