Visit website 925 Vermont St, Lawrence, KS 66044 Opens Tuesday at 8:30 a.m.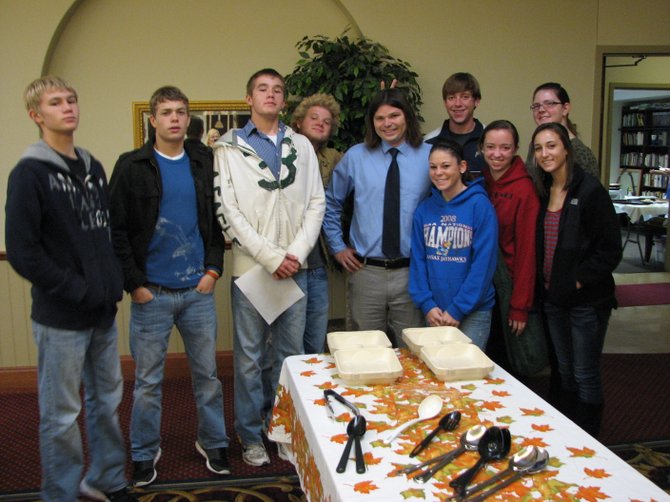 Our church's goal is to provide a sequential, interesting, age-appropriate program for all ages. We aim to encourage a sense of Christian community and identity which will nurture and sustain all persons in their relationships with God and one another. We will be having all children enroll for Christian Education this year. This will help us form classes and better plan for activities and curriculum. It also gives us important information about medical needs and emergency contacts. For more information about any program or activity listed here, please contact Heather Coates, Director of Christian Education, at the church office, 843-3220.
Learn more about our classes here — room assignments are posted in the church lobby each Sunday morning…
Nursery: Nursery and Toddler rooms open every Sunday of the year at 8:15 a.m.
Rainbow Journey (1st thru 5th grades): We invite you to experience the innovative rotational model Sunday School classes called Rainbow Journey, from 9:45 a.m.until the end of the first worship service.
For kids in 1st grade thru 5th, they will have a hands-on experience in learning bible stories and of God's Love. 6-12th graders: Sunday School is held on the second floor of our north church. Currently 6th graders are meeting in room 204N, 7th and 8th graders are in room 205N and 9th-12th graders are in 203N.
Plymouth Youth Group: also known as PYG (7th-12th grade Youth Group): meets every 1st and 3rd Sunday during the school year from 4:30-6:30 p.m. unless times are changed for special events. This group participates in a variety of activities aimed at fellowship, service and faith development. Information is published regularly in The Rock. Contact person is Josh Longbottom.
Adventure Club-

Adventure club meets on Wednesday afternoons each week at Aimee's Café downtown in Lawrence, from 2 to 3 pm. This group targets 8th graders, but is not restricted to them. Associate Pastor Josh Longbottom and volunteers lead the youth on a new adventure each week that incorporates a prayer practice into it. You never know what will happen at Adventure Club. One time, we baptized Josh's dog in the Kaw river with the youth leading the liturgy, another time we let biodegradable balloons go off Wells Overlook tower with messages of peace for those who are going to find them. We have fun doing lots of goofy adventures, but the biggest adventure is our time spent together.
Mission Trips-
Each year the Plymouth Youth Group sets out for a week long mission trip, either during spring break or early in the summer. Usually 15 to 20 youth come, ranging from 7th to 12th grade, some of who don't really go to church or even go to another church. Over the past couple of years we have gone to Alamosa CO to build a passive solar adobe home for Habitat for Humanity, Lake Michigan for a week long work shop on how to advocate for world peace, Ghost Ranch in New Mexico where we did groundskeeping maintenance. In 2010 we went to South Padre Island and painted housing at the headquarters for political refugees. The next trip this June 2011 will be to Biloxi, MS, Orange Beach, AL, Memphis, TN to glean crops for soup kitchens. On these trips, we do not proselytize. The youth learn to meditate, do simple yoga, learn several contemplative prayer practices, a special way to journal and how to walk a labyrinth as a prayer, as well as learn to cook for 30 and clean up after each other.