Visit website 801 E. 9th, Lawrence, KS 66044 Opens today at 8 a.m.
PDS Services / Home, office, apartment & commercial moving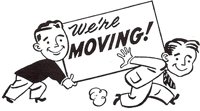 Home Moving Services We take pride in our home moving services, and we care about your things! We always go the extra mile to make sure we protect your belongings from point A. to point B. We use shrink wrap, blankets, straps, common sense, and more to make sure you get the best moving experience possible! So sit back and relax! Your PDS Movers will make your big moving day a breeze.
Apartment Moving Services So you're ready to move out of your apartment YAY! Then you look at all those stairs and you become very overwhelmed... You're in luck! Believe it or not, apartment moving is one of our favorite things to do. We're not scared of those stairs! In fact wee actually like them!! Give us a call and take those exhausting stairs out of your life!
Office Moving Services Let PDS take the stress out of your office move. We have 8 years experience and specialty equipment to make handling large office furniture safe and easy.
Commercial Moving We know that time is money. Corporate Relocation require a knowledgeable and dedicated to perfection staff. We have the right moving equipment and resources to complete every commercial relocation and make it a successful one. We offer the best corporate moving solution for your commercial relocation.