Visit website 930 S Iowa Street, Lawrence, KS 66047 Opens today at 8 a.m.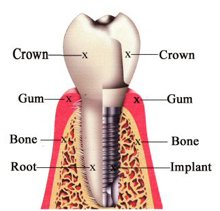 A Permanent Replacement for Missing Teeth Smile, Laugh and Eat Again with Absolute Confidence
If you are missing teeth and have experienced permanent dental implants, we think you will agree that they are one of the best dental technologies ever developed. Dental implants can get you back to enjoying life in ways that dentures and bridges never could and can replace single teeth so you'd never know they're missing.
The newest implant technology lets Dr. Otten restore oral health and function with implanted replacements amazingly close to healthy, natural teeth. Denture patients have 4-5 times the functional capacity that they had with dentures alone and single teeth implants allow for maximum function and cleansibility.