Visit website 1112 W 6th Street, Suite 124, Lawrence, KS 66044 Opens Monday at 7 a.m.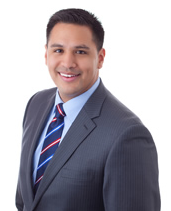 Board-Certified American Board of Family Medicine
Dr. Salazar received a bachelor's degree from Indiana University in 2001, a graduate degree in 2003 from Indiana University School of Medicine and a graduate from the University of Kansas School of Medicine in 2007. He completed his family medicine residency at The Ohio State University Medical Center in 2010 and his Primary Care Sports Medicine Fellowship in 2011. He has experience treating NCAA and NAIA collegiate athletes; gymnastics, rugby, wrestling, fencing, football, diving, and many recreational athletes. Dr. Salazar's interests include care of endurance athletes, foot/ankle biomechanical issues, injuries in high school athletics, medical issues in the athlete, musculoskeletal sports injuries and overuse injuries in the non-athlete.
Board Certified Board-Certified American Board of Family Medicine
Certificate of Added Qualifications in Sports Medicine by the American Board of Family Practice Fellow American Academy of Family Physicians Member American Medical Society for Sports Medicine American College of Sports Medicine American Academy of Family Practice Fellowship Primary Care Sports Medicine Fellow, Ohio State University Medical Center