Visit website 600 Lincoln Street, Lawrence, KS 66044 Opens today at 8 a.m.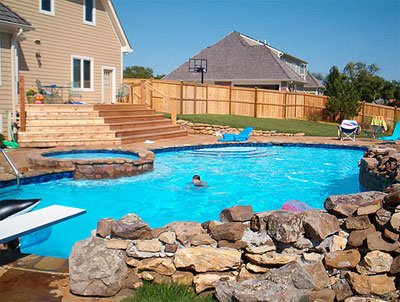 For the most complete outdoor living experience consider the addition of a swimming pool for your family's health and enjoyment. Let Lawrence Landscape design your dream pool. We can take your ideas and bring them to life in a complete pool and landscape plan. Our expert design team can make your ideas into reality, whether the pool and landscape is an elegant formal design or an exotic lagoon shape with waterfalls and native stone, the end result will be something unique and personal.
Vacation in your own backyard!!
Pool Size
There is a lot to consider, but when it comes right down to it, it's a personal preference. The most common sizes are 15' x 30' and 20' x 40' but your pool can be sized to suit your needs. Remember to allow for walks, deck, patio and other points of interest and activities.
Depth
Most pools slope from 3' to 8' deep. Surveys indicate that 70% of all pool activity takes place in the shallow end, but diving can only take place in the deep end. Depth can affect cost in two ways: the amount of dirt to be removed (especially if rock is encountered) and more water demands larger filtration, chlorination and heating systems.
Shape
This is a matter of personal preference, but the amount of perimeter footage influences cost.
Purpose
Serious swimming and training usually require straight walls (rectangle or dog-leg). Water play and refreshing dips allow more ornate shapes.
Setting
In an informal setting, free-form shapes work well. In more formal settings, discipline and balance work better.
Location
Pools work best in open sunlight, shielded from prevailing winds and away from overhead and underground utilities (these can usually be moved).
Other Considerations
Do you need an area for sunbathing?
A shaded area for entertaining?
A bathhouse or bathroom facilities?
How will the pool look from the house? or patio?
Are there other landscaping considerations?