Visit website 1628 US 40, Lawrence, KS, Lawrence, KS 66044 Opens today at 8 a.m.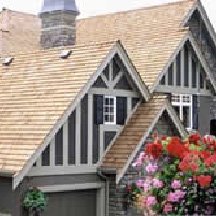 Red cedar is the most regularly used wood in North America for the purpose of roof shingles and shakes. Cedar shingles are sawn from wood blocks. They are tapered and generally have a smooth surface. Cedar shakes are split from wood blocks; they are less uniform in thickness than shingles, are sometimes grooved, and often have little taper.
The most important property to consider when buying cedar shingles and cedar shakes is durability, and its resistance to decay. Some woods, such as the red cedar, have natural durability and that makes it the most regularly used wood for shingles. Cedar roofing shakes and shingles also provide excellent insulation as a roofing material.
The most obvious features that distinguish cedar shakes and cedar shingles from each other are their unique visual characteristics. Cedar shingles provide your roof with a more tailored look, while cedar shakes supply a more rugged appearance. Shingles and shakes can be used on sidewalls as well as roofs and come in varying lengths, typically 18 inches for shingles, 24 inches for the shake and in random widths.