Visit website 1628 US 40, Lawrence, KS, Lawrence, KS 66044 Opens Monday at 8 a.m.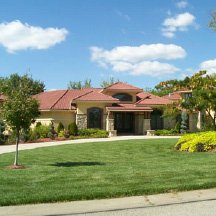 Slate roofing comes in various grades and colors, and is the perfect topping to an elegant home providing amazing textures and style. Slate is very high-quality and very low maintenance, with a life expectancy of between 75 and 200 years, assuming you install grade S1 slate.
Though not the least expensive roofing material available, slate has been used for centuries to create beautiful roofs, renowned for resisting the assaults of rain, wind, and snow. With its inherently unique textures, soft colors and unmatched durability, it is the perfect marriage of practicality and beauty, and will give your home an unparalleled luxury look.