Visit website 1220 Biltmore Drive, Lawrence, KS 66049 Open today until 7 p.m. Open by appointment
Services & Staff / Larisa Kimuri, MD, and Debbie Miller, RN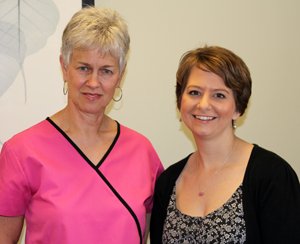 Dr. Kimuri is a native Kansan and Jayhawk. She received her undergraduate degree from the University of Kansas (KU) and her medical degree from KU Medical Center in Kansas City. She joined the practice in August 2008. Larisa says she was naturally drawn to family medicine because of the wonderful variety of conditions that are treated. She also has a strong desire to care for people of all ages and a particular love for obstetrics.
Larisa is married to husband Eric and they have three children, Gabriel, Morgan and Henry. Among other things, they enjoy bike-riding as a family. Eric is a native of Kenya, where Larisa and her family have had the opportunity to visit.
Her associate, Debbie Miller, has been with LFMO the longest of all our nurses, working first with Drs. Phillip A. Godwin and Sherri Vaughn, and now with Dr. Kimuri. She has an outstanding knowledge base regarding our patients and her reputation for attention to detail is widely acknowledged.