1711 W. 23rd St., (23rd and Ousdahl), Lawrence, KS 66046 Opens Monday at 7 p.m.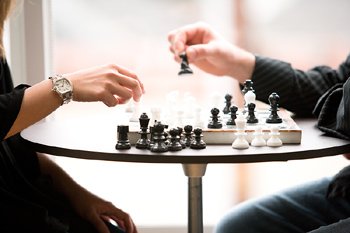 Our club is very casual, with lots of kibitzing and joking around, which is part of the fun.
But there are a few things which help create a good atmosphere:
If a player is bothered by the comments of spectators, please stop and let them concentrate on their game.
If one wishes to play the winner at a table, please speak up - the loser of the game should rise at the end of the game.
If there are people around and one is looking for a game, simply approach them - they may be interested, or may be watching or waiting for another game.
When there are people waiting, we generally play 5 minute/side games - that allows everyone to play more games.
It should generally be possible to play a fair number of games at the club - if you are having trouble, please let me know.