Visit website 500 Rockledge Rd, Lawrence, KS 66049 Opens Monday at 7 a.m.
Programs / "Purely Preschool" Program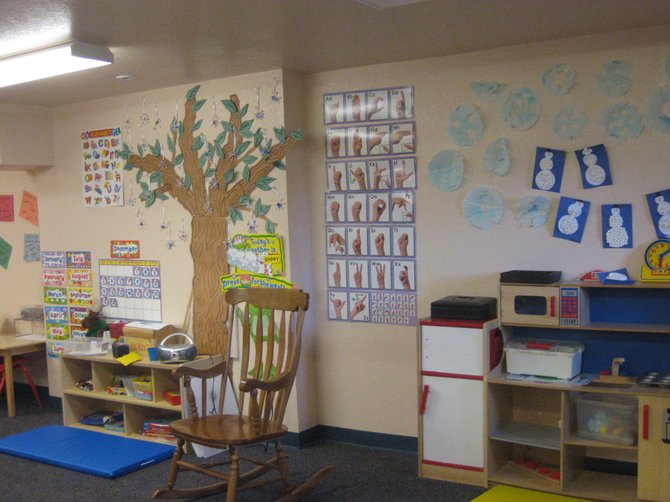 Our part time preschool program, "Purely Preschool," is offered daily from 8:30-11:30 and follows the Lawrence public schools calendar, so when school is out for them, it is out for this program as well. Five mornings a week is $390/month. MWF mornings is $240/month, and TTh mornings is $165 a month. "Purely Preschool" follows the same curriculum as the rest of the full time preschool classrooms in our building. This includes, utilizing the Creative Curriculum which helps dictate room arrangements and interest areas that are quite varied. Creative Curriculum is a portfolio based program so that each child's progress can be documented and we can make sure they are reaching certain benchmarks before kindergarten. This classroom has activities in art, science, blocks, math & manipulatives, literacy, cooking, sand & water, toys & games, and dramatic play. We are lucky to be the only school in Lawrence with an indoor climbing structure so that our children get to build gross motor skills and exercise year around, regardless of the extreme Kansas weather.

In addition, we use the Animated Alphabet Literacy curriculum as does the Lawrence public schools. This is the curriculum in place at USD 497 for introducing the alphabet to incoming kindergarteners. We introduce it in our preschool classrooms so that our children are a step ahead when they enter the public school system. We also teach Handwriting without Tears, another curriculum program used by USD 497. The special curriculum we offer at Googols includes sign language, Spanish, science, and social etiquette. The sum of all these varied curricula is a whole child approach which addresses the development of the young child not only cognitively but, socially, emotionally, and physically as well. We'll make sure your child is completely ready to be successful in grade school.
Rates are monthly and we do have tuition assistance programs available. Please call with any questions. 856-6002.