Visit website 3000 Iowa St, Lawrence, KS 66046 Opens today at 9 a.m.
Products / "Ceramic or Porcelain?"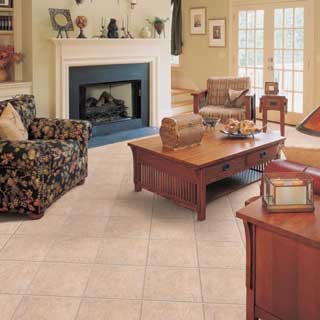 Ceramic tile is offered in a dazzling array of sizes and colors, with finishes ranging from smooth to textured or even a tile that looks like stone. It is versatile enough to work with the décor of any room. For these reasons it has been an ideal flooring choice for hundreds of years and millions of homes.
Ceramic tile is made from clay and other minerals that has been shaped, pressed, then fired for hardness at temperatures exceeding 2,000º F. To give the tile a protective finish , a glaze is applied before firing.
Ceramic tile available at our store... offer an amazing variety of textures, designs, and colors Provide a tough stain and fade resistance Are perfect for any area that sees a lot of moisture like kitchens and bathrooms, or a lot of traffic like entryways Can come with coordinating trim, transition pieces, and decorative accents.
Porcelain tile is a type of ceramic made of a very fine mixture of clays and minerals similar to those found in fine dinnerware. It has a wonderful beauty but is just as tough and durable as ceramic. This unique mixture allows it to be fired at higher temperatures than ceramic – exceeding 2,400 º F. This higher temperature makes it denser, more durable and more resistant to moisture.
Porcelain tile available at our store... Is denser and harder than most tile flooring. Is Extra stain and water resistant. Has naturally easy to clean surfaces. Beautiful and durable, both in the home or in commercial applications.