Visit website 4931 W. 6th St, Ste 130, Lawrence, KS 66049 Open today until 11 p.m.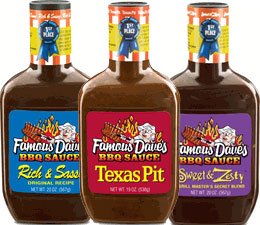 Available in our restaurants, or buy Famous Dave's sauces online!
Famous Dave's has five ways to "Get Sauced!"
Rich & Sassy® - Dave's Original Recipe The sauce that made us Famous; sweet and tangy with hand-picked herbs and spices.
Georgia Mustard® A vinegar, brown sugar and mustard-based sauce. A favorite in the Appalachians and southeastern states.
Texas Pit® A tangy tomato-based sauce with a black pepper kick made for slathering on brisket and chicken.
Sweet & Zesty® Authentic "right out of the pit" flavor that balances citric sweetness with spirited spice.
Devil's Spit® You can only imagine how far Dave went to get this one.