Visit website 4931 W. 6th St, Ste 130, Lawrence, KS 66049 Open today until 10 p.m.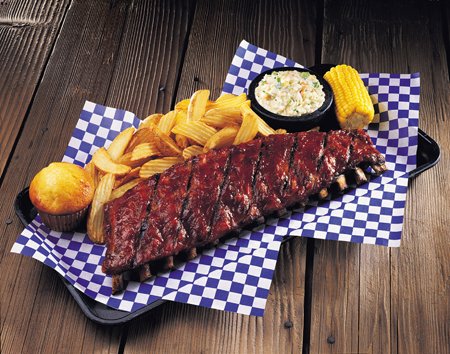 Every day we smoke our meats over a smoldering, sweet hickory fire for up to 8 hours. We rub 'em with secret seasonings and slather them with the world's best sauces.
Served with a corn bread muffin, corn-on-the-cob and your choice of two sides.
Georgia Chopped Pork Smoked for up to 8 hours and chopped to order, our BBQ-slathered pork is juicier than a Georgia peach.
Rib Tips A full pound of tips, slathered with Rich & Sassy® BBQ sauce, fire-grilled, then chopped and served to order.
Texas Beef Brisket You could eat your way through the Lone Star State and not find a better brisket: hand-seasoned, hickory-smoked, and bursting with flavor.
Barbeque Chicken Juicy-to-the-bone, BBQ-slathered half-chicken, slow-cooked and then flame-kissed right before serving.
Country-Roasted Chicken Lemon-pepper marinated half-chicken, roasted till it's fall-off-the bone tender and char-grilled.
Sweetwater Catfish Eight tender strips lightly breaded with Cajun-seasoned cornmeal, served with our Sweet Soul Jalapeño and rémoulade sauces.
Traditional or Boneless Wings Choose your sauce! Rich & Sassy, Buffalo, Devil's Spit, Pineapple Rage or Wilbur's Revenge.
Chicken Tenders Tender, all-white meat tenders fried to crispy perfection. Served with Sweet Soul Jalapeño sauce.
AWARD-WINNING ST. LOUIS-STYLE RIBS XXL Ribs, "The Big Slab", 12-bones Half Slab, 6-bones 1/3 Slab, 4-bones Served with a corn bread muffin, corn-on-the-cob and your choice of two sides