Visit website 1019 Massachusetts Street, Lawrence, KS 66044 Opens Monday at 8:30 a.m.
Photos / Dr. Elizabeth Crandon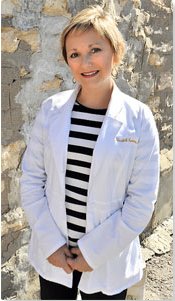 Positive and empathetic, Dr. Elizabeth Crandon has a passion for working with patients of all ages, who struggle in school, work or life, because of visual difficulties. She has worked extensively with patients who experience learning difficulties due to visual dysfunction, as well as those with brain injury and special needs. Dr. Elizabeth Crandon has practiced in downtown Lawrence with her husband, Dr. Brent Crandon since 1989. Over the years, she has dedicated her life to her practice, community and most importantly, her family. She and Dr. Brent Crandon have three daughters who have all contributed to the well being of the practice.
Dr. Crandon grew up in Detroit, Michigan. She graduated from the University of Michigan in 1985 with a Bachelors of Science in neurobiology. She received her Doctor of Optometry degree in 1989 from the University of Houston College of Optometry. In 2008, she completed a fellowship from the Collegen of Optometrists in Vision Development. She is currently one of six optometrists in the state of Kansas who is board certified in developmental vision and vision therapy.

You are at the first photo

Previous

You are at the last photo

Next