Visit website 2113 Delaware Street, Lawrence, KS 66046 Opens Monday at 8:30 a.m.
Services / EXTENDED FAMILY TEACHING SERVICES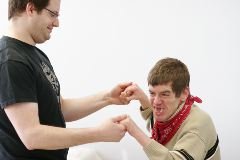 The Extended Family Teaching Model (EFTM) is a specialized, highly supported, and well-monitored program for adults who have significant developmental disabilities. In this residential program one, and in some cases two, persons with developmental disabilities join a family-teaching couple or single adult's family in the host family's home. The EFTM living arrangements are essentially an extended family living together under one roof. These placements are designed to be long-term and intended to originate from an existing positive relationship.
  EFTM family teachers receive the same training, clinical support, evaluations and certifications that CLO's family teachers do.  Services and supports, including respite relief, are tailored to meet the needs of each extended family and the person(s) supported.

  EFTM individuals or couples are independent contractors of CLO.  Through their contract with CLO they receive a set monthly payment in exchange for providing for the specific needs and desired quality of life of the person(s) served.  Because EFTM placements are administrated as independent contracts, there are many standards of review by CLO, including quality of life outcomes, business practices, and insurance coverage requirements that must be maintained.

  CLO currently offers the development of EFTM living arrangements in both northeast and southeast Kansas.  CLO is also developing four new Extended Family Teaching homes through its Midnight Farm project.