Visit website 1425 Wakarusa Drive, Suite A, Lawrence, KS 66049 Opens Monday at 8 a.m.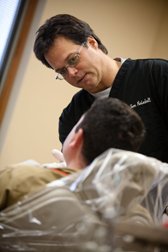 Each of the doctors at Cascade Dental is experienced in all disciplines of general dentistry and can provide a variety of specialty services, including:
- Endodontics Endodontic treatment, or root canal therapy, is performed routinely by our doctors. Treatments will enable patients to preserve and restore severely damaged teeth.
- Periodontics Periodontal treatment of the gum tissue and supporting bone is an integral part of our practice. Our hygienists perform scaling and root planning daily. They're extremely skilled at administration of local anesthetic and use of ultrasonic instruments to treat gum disease effectively, while keeping patients as comfortable as possible.
- Dental Implants Cascade has been placing and restoring Nobel Biocare dental implants since 1996. These implants are a predictable and effective treatment for replacing missing teeth.
- Oral Surgery We routinely perform many surgical procedures; most often among them is the removal of wisdom teeth. We are capable of providing general anesthetic in select cases.
- Sedation Dentistry We offer sedation options for patients with high levels of anxiety regarding dental care. Valium and nitrous oxide gas can be administered in our office prior to treatment so that patients can be relaxed and more comfortable.