Visit website 939 Iowa St., Lawrence, KS 66044 Open today until 5 p.m.
Our Services / Buckingham Palace Residential Cleaning: Making you feel like royalty!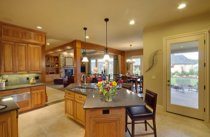 Buckingham Palace Housecleaning cleans homes throughout Lawrence, Kansas, and surrounding communities including Baldwin City and Eudora. When you call us for housecleaning, you will receive a closely supervised and well-screened professional or team. You can rest comfortably knowing that we have served the Lawrence area since 1984 and have a history of successful care for the safety and satisfaction of you and your family.
Busy professionals, two-income families and commuters all have limited personal time when they arrive back at home. We can help them regain more quality time in their lives. Buckingham Palace Housecleaning also specializes in assisting retired and elderly families who may be having more trouble keeping up with the cleaning demands of their home. We can help them have the lifestyle and home cleanliness they desire.
Whether you have a multi-winged mansion or a cozy cottage, we simply help you regain some of your personal and family time. We utilize environmentally safer methods and chemistries designed to protect you and your family. Environmental choices are healthier choices.