Visit website 930 Iowa Street, Lawrence, KS 66044 Opens Monday at 8 a.m.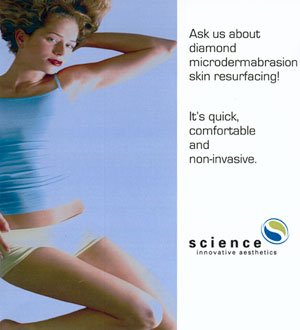 The Aurora Microdermabrasion system is an innovative device combining the polishing action of laser-cut diamond crystals with the cleaning action of a vacuum to create a very intense exfoliation. The topmost epidermal layer is removed by gently abrading the skin with the diamond crystal hand piece. At the same time, dead skin cells are vacuumed away in a sterile and controlled manner. This in turn can help smooth the surface, give a more even skin tone, and soften fine lines and wrinkles. Even after one treatment, patients experience a significant change in their skin's texture. Through a series of treatments spaced between 2 - 4 weeks patients will see the best results.
Visible effects of microdermabrasion on the skin
• Reduces and softens fine wrinkling • Reduces uneven pigmentation and lightens skin color • Reduces acne, resulting in less severe breakouts • Reduces superficial acne scars • Reduces persistent redness from prior acne breakouts • Eliminates dull rough looking skin discoloration due to aging • Tone of skin looks more lustrous and translucent • Helps control oil • Keeps pores cleaned out, thus making pores look smaller
Call 785-842-7001 to arrange a free consultation with our microdermabrasion technician, Amanda Martinez.