Visit website 930 Iowa Street, Lawrence, KS 66044 Opens Thursday at 8 a.m.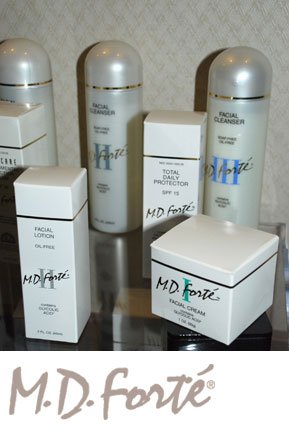 Your answer to beautiful skin
What can M.D. FORTÉ skin care products do for me?
M.D. FORTÉ contains alpha-hydroxy acid (AHA) to normalize the exfoliation process and increase moisturization of your skin. These processes generally slow down with age and exposure to the sun. AHA sheds, or exfoliates, dead cells of the outer layer of the epidermis, making it thinner and more compact. As the dry outer layer is exfoliated by AHA, younger, healthier, smoother-looking skin is revealed.

How does M.D. FORTÉ® differ from other AHA skin care products? M.D. FORTÉ® products contain up to 2 to 3 times higher levels of glycolic acid than other similar products at comparable prices, without irritation. Made to a consistently high standard, M.D. FORTÉ® products deliver results. Combine this with the expertise of a physician and you get the very best and most personal formula for anti-aging skin care.
When can I expect to see results? Your skin will most likely become softer and smoother within a few days. Improvement will occur with continued use. In approximately 2 to 6 weeks you should begin to see and feel visible results, depending on the condition of your skin prior to use. The look of fine lines will diminish and the overall tone and texture of your skin will become more even. Additionally, glycolic acid peels by a physician can accelerate results.
I used to worship the sun. Is it too late to correct the damage I've done? It's never too late to fight back! First, get a complete evaluation of your skin from your physician. Then together, choose and M.D. FORTÉ regimen that's right for your skin type. Ask for M.D. FORTÉ Skin Rejuvenation skin care products with alpha-hydroxy acids and vitamins A and E. This clinically proven formula works within the skin's surface where wrinkles begin. Used daily, it will minimize the look of fine lines and wrinkles and soften and smooth skin for a healthier, younger-looking complexion.