Visit website 318 Crimson Ave, Baldwin City, KS 66006 Open today until 6 p.m.
Products / STIHL Trimmers/Brushcutters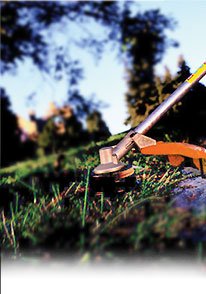 Years ago, when people wanted to have a beautifully manicured lawn or garden, they either paid someone else to mow and trim or they did the backbreaking work of getting out the old tools and doing it themselves. Jobs back then could take hours. And the amount of power you got was often only equal to the "elbow grease" you applied! Out in the hinterlands or on the back 40 where the brush was thick and dense, the old-fashioned ways were even more difficult. And results? Well, they could vary, to say the least.
Fortunately, things have changed a lot since then. Today, homeowners, landscaping contractors and forester who pride themselves on exact, unwavering landscaping and clear, unhindered lots and paths need two things. When choosing the right trimmer or brushcutter to get the job done they need power that's dependable and construction that's durable, yet lightweight. They need quality STIHL trimmers and brushcutters.
With interchangeable cutting heads that feature everything from nylon line to metal blades, STIHL trimmers and brushcutters are as versatile as any on the market. And thanks to electronic ignition, they're not only easy to operate, but easy to start - in all weather conditions. Count on it! Performance-proven STIHL features that help you cut the big jobs down to size.