Visit website 318 Crimson Ave, Baldwin City, KS 66006 Open today until 6 p.m.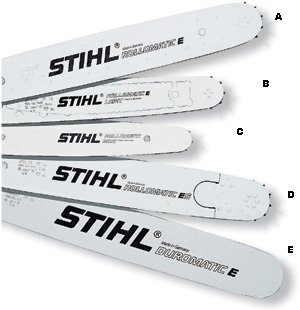 STIHL guide bars are available in two basic versions: STIHL ROLLOMATIC® Ematic™ bars and STIHL DUROMATIC® Ematic™ bars.
A - STIHL ROLLOMATIC® E Standard The standard version of the STIHL ROLLOMATIC® Ematic™ bar consists of three electrically welded metal plates. The middle plate is hollowed out, giving the bar great stability with low weight.
B - STIHL ROLLOMATIC® E Light 38% lighter than the standard bar. Made of two steel plates which have been hollowed out and electrically welded together. The open areas have been filled with fiber-reinforced polyamide. Has excellent rigidity for efficient cutting and better balance during limbing operations. Great for arborists.
C - STIHL ROLLOMATIC® Mini Available in 12", 14", and 16" lengths. Use with STIHL PICCO® Micro™ narrow saw chain (PMN) to increase cutting efficiency over PM1 chain by 13%. Makes smooth pruning cuts.
D - STIHL ROLLOMATIC® E Super Unlike the STIHL ROLLOMATIC® E Standard, the STIHL ROLLOMATIC® E Super consists of a solid and particularly rigid bar with a sprocket nose which can be replaced as a whole. Designed for the most demanding professional jobs, it is primarily used on heavy-duty saws for felling and bucking. Available as wide and narrow nose guide bars.
E - STIHL DUROMATIC® E A heavy-duty guide bar for chain saws in the middle and high performance ranges. Like the STIHL ROLLOMATIC® E Super, the bar is made of extremely strong, solid steel with induction hardened guide rails. The bar nose is reinforced with a hard surface that is also used in aircraft construction.
Heavy duty STIHL guide bars range from 12" to 47" in length and are equipped with STIHL's exclusive Ematic™ lubrication system.
STIHL guide bars don't need to be greased.
Bars with a relatively small radius help to reduce the incidence of kickback and are lighter. Those with a larger radius are designed for professionals requiring a higher plunge-cutting performance and longer service life.