11005 W. 60th Street, Suite 180, Shawnee, KS 66203 Opens Monday at 8 a.m.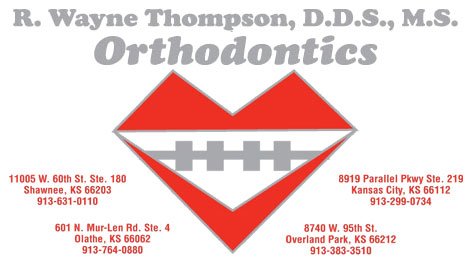 Details
Our personal goal is to deliver quality treatment in a pleasant and caring atmosphere. There are many lifelong benefits to orthodontic treatment. Having a beautiful smile boosts self esteem and promotes self confidence! When teeth are in their correct alignment it makes it easier to maintain good oral hygiene which promotes long term oral health. Correct occlusion between the upper and lower jaws can help to prevent TMJ (temporal mandibular joint dysfunction) and other related conditions including damaging wear of the teeth.
We use digital x-ray technology and offer stainless steal braces that you can apply colors to, clear braces and gold braces.
We get to know our patients since full orthodontic treament typically involves several visits over 18 - 24 months and we try to make it a fun and relaxed environment. There is nothing more rewarding to us than seeing the beautiful smiles of our patients the day the braces come off!
This business appears in: Health Care, Dentists
Business affiliations
Present Trustee of the American Dental Association
Past President of the Kansas Dental Association
American Association of Orthodontics
American Dental Association
Johnson County Dental Society
American College, and International College of Dentists
Pierre Fauchard Academy