Visit website 3000 Iowa St, Lawrence, KS 66046 Opens today at 9 a.m.
Products / "Laminate Flooring... What is it?"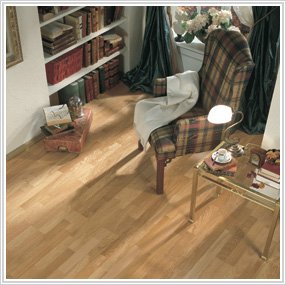 Laminate flooring was first introduced in the United States in 1996 and has been successfully sold in Europe for many years. If you would like the look of real wood flooring or ceramic floor tile but want the ease of installation, long-lasting durability, and a more affordable option, laminate is what you're looking for.
Laminate resists dents, fading and stains, and at first glance it's difficult to tell laminate and real hardwood flooring apart. Laminate flooring can be installed over areas that are flat and stable like tile, vinyl and sub-floor. Laminate flooring systems are floating, which means they do not fasten directly to the plywood subfloor (or any other existing floor). Instead, they use a click together interlocking system which holds the material together while allowing the subfloor below to move independently of the laminate.
Laminate Layers Essentially, all laminates are composed of four layers:
The top layer consists of a transparent scratch and stain resistant wear layer with a high taber (wear-resistance) value.
Next is the design layer, a melamine resin impregnated paper, having various patterns and designs ranging from woodgrains to stone to even more imaginative and decorative type designs.
Then comes the core, which is constructed of a high quality, high-density fiberboard, manufactured with a water resistant glue.
Finally comes the stabilizing layer or balancing layer. This layer is also impregnated with melamine resin and is of a thickness to balance the product, thus eliminating "cupping" or "warping."
There are many trim and style options available for laminate floors. Transition strips, end caps, stair nosings, moldings, and baseboard are available for most finishes.