Visit website 939 S. Iowa St, Lawrence, KS 66044 Opens Wednesday at 8 a.m.
Services / Rigorous Employee Screening Process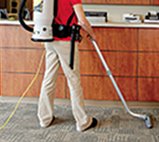 It may be comforting to you to know that we select employees from in and around the Douglas County community. The Buckingham Palace Housecleaners that serve you are often people you pass in the grocery store or sit next to when you watch your kids play sports. We believe in Lawrence, Douglas County, nearby towns and in strengthening the local economic fabric. We hope you also make choices whenever possible that support the people of this area. It is good for all of us.
Our rigorous employee selection process protects your interests and your assets:
In-depth employment application
Detailed interview process
Thorough employment verification and reference checks
Both county and nationwide background checks
Homeland Security Approved, Right-to-Work, E-Verify System
Position-specific training
Uniformed, bonded and insured