Megen Duffy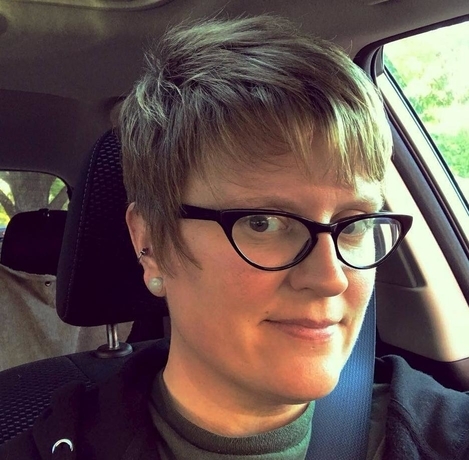 A celebration of life will be held for Megen Corin Duffy, 43, of Lawrence, at 3 p.m. Sunday, November 4, at the Carnegie Building, 200 W. 9tth St., Lawrence.
She went to join her beloved father and grandparents on October 5, 2018.
Megen was born December 6, 1974, in Pittsburg. Blessed with a boundless intellect, she excelled at academics while studying pre-med at Pittsburg State University before transferring to the University of Kansas, where she earned a degree in English literature in 1997. She worked for a time as a copy editor, then branched out to become self-employed as a freelance editor for several scientific and medical trade journals.
With her love of the medical field still driving her, Megen then went on to earn her BSN from Washburn University's School of Nursing in 2008. She worked as an RN in the fields of cardiac intensive care, corrections and emergency medicine before finding her true professional passion in hospice nursing. Megen deeply cared for and respected each of her many hospice patients. She advocated for them and their families with dedication and a sincere commitment to making the end of life a time not to be regarded with trepidation and fear, but to be honored. Her efforts in this area will long be remembered.
Throughout her professional career, Megan also continued to write, both as a contributing editor with the American Journal of Nursing and as a blogger with Online LPN to RN as her way of passing along her devotion to the field of nursing and of encouraging others to follow in her path.
In her off-duty hours, Megan was an avid reader. Her favorite books to share were those that uncovered the humor in life's day-to-day absurdities. Her own humor was contagious; everyone who knew and loved Megen has been graced with her legacy of comical stories that we will continue to cherish.
Another of Megen's passions lay in the area of animal rights. She adopted countless pets from the local humane society and was an avid supporter of efforts to end homelessness and mistreatment for all animals at both the local and national levels. There wasn't a furry creature around, even those usually misunderstood and mistrusted by most humans, that wouldn't receive some love from Megen.
Megen was preceded in death by her cherished father, Kirt Duffy, as well as her much-adored grandparents. She is survived by her mother, Suzanne Lange; an uncle, Jeff Duffy; an aunt, Jan Hamblin, and numerous cousins, as well as a host of loving friends and her spoiled but delightful pets. As a loving remembrance, memorial contributions in her name may be made to the Lawrence Humane Society.