Anniversary
Congrove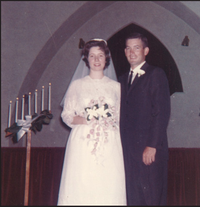 Jim and Dorothy Congrove were married June 7th, 1964 at the North Baptist Church in Ottawa, KS.
Jim is from Effingham, KS and Dorothy (Glanville) from Ottawa, KS.
They met in Manhattan while they were students at Kansas State University. Jim worked for the Extension Service in Kansas, Nebraska and Missouri before the family moved to Lawrence in 1973. They farmed northeast of Lawrence in Douglas County for many years. Jim then worked for the Department of Agriculture in Topeka and Dorothy worked in the office of Warren-McElwain Mortuary.
They celebrated the anniversary at their farm home with their children and grandchildren. Son Tim and Sara Congrove, Lake Quivira, KS and children Spencer, Zachary, Chase, Maggie; daughter Kerri and Steve Weber, Frisco, TX and children Jeremy and wife Kenna, Morgan, Hannah; and son Andy and Suzanne Congrove, Shawnee, KS and children Jake, Luke.
Cards may be sent 1839 E 1700 Rd, Lawrence, KS 66044.