Anniversary
Pine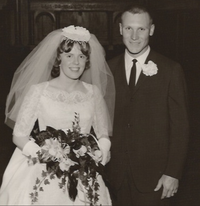 It was a windy, dusty day! So, Roger Pine stopped by Delbert & June Erhart's to suggest removing the clean laundry from the clothes line before he tilled the neighboring field for planting. Sue Erhart answered the door...in curlers! A spark flew! A date ensued...and Roger & Sue (Erhart) Pine married on a soggy April 4th, 1964 at First United Methodist Church in Lawrence. Attendants:
Cindy (Erhart) Pratt, Sharon (Pine) Sabraw, Cheri (Kitlen) Armbrister, Kathy (Ruehlen) Martin, Steve Pine, Larry Larson, Jim Congrove, & Jon Erhart.
Organist: Dan Abrahamson.
Much to Raymond Pine's (father of the groom) disappointment, corn planting was momentarily suspended but a good showing from the farming community was enjoyed due to the rain-soaked wedding day! The couple's get-away "car" was a plane flown by "Uncle Dean" to Ottawa where the car was secretly stashed! The couple honeymooned in a cabin at Twin Oaks Resort in the lovely Grove, Oklahoma. Promotional material lists cabin rates at: "$6.50-$11.50 per day for 2!"
Roger & Sue have raised a family, farmed Douglas County land and been in business together throughout their marriage. Together they enjoy family, friends, church and community service, KU & KSU sports, gardening, BLT's, & homemade brown bread ice cream!
Roger & Sue will be honored Saturday, April 12th with a high falutin' family bonfire and weiner roast (if not too dry) in the backyard. Cards of congratulation may be sent to: 20758 Golden Road, Linwood, KS 66052.
Your love for and devotion to one another are inspiring!
Happy 50th!
Engagement
Davis and Holland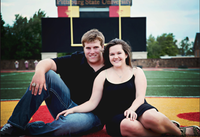 Gary and Donna Davis, Tonganoxie, are pleased to announce the engagement of their daughter, Taylor Davis, to Cody Holland, son of Chuck and Sharon Holland and the late Diana Holland, Neosho, MO.
Both Taylor and Cody will graduate in May from Pittsburg State University with degrees in education.
The wedding will be June 7, 2014 at First United Methodist Church in Lawrence.