Wedding
Omland and Montney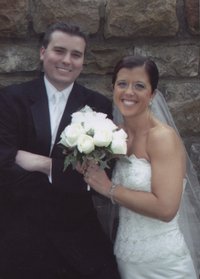 Jeanmarie Montney and Kris Omland were married Nov. 8, 2008, at St. John the Evangelist Catholic Church in Lawrence with the Rev. Al Rockers officiating.
The bride is the daughter of Gordon and Carolyn Montney, Lawrence. The groom is the son of Jeff Omland and Maureen McDonald, both of Penticton, British Columbia.
Maid of honor was Chamie McCurry. Best man was Brent Omland. Bridesmaids were Pam Gallagher, Beth Roller and Alison Omland. Groomsmen were Grant Montney and Jake Montney. Ushers were Florio Vassilakakis, Chris King, Jeff Burgovne, Randy Murphy and David Jacobs. Ringbearer was Tanner Speicker. Flower girls were Emily Silvers, Kiley Montney, Audrey Bell and Andi Bell.
A reception was given at Abe and Jake's Landing in Lawrence.
The couple reside in Columbus, Ohio.