Anniversary
Riehm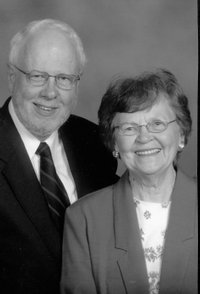 Harold and Donna Riehm celebrated their 50th wedding anniversary on a week-long cruise with 17 family members from five states.
Harold Riehm and Donna Vite were married Aug. 23, 1959, near Buchanan, Mich.
They are both graduates of North Central College, Naperville, Ill., where they met. Donna retired in 1994 from elementary teaching. She taught at Kennedy and Deerfield schools in Lawrence. Harold retired in 1994. Following graduate work, he joined the political science faculty at Kansas University. He later held various positions with the State of Kansas, as research director for local government study commissions, and as executive director and lobbyist for state professional associations of physicians.
They have a son, Michael, Lawrence; three daughters, Jodi Meyer and husband Steve, Willmar, Minn., Jami Riehm, Kansas City, Mo., and Juli Roedel and husband Ethan, Littleton, Colo.; six grandchildren; and one great-grandchild.