Anniversary
Anderson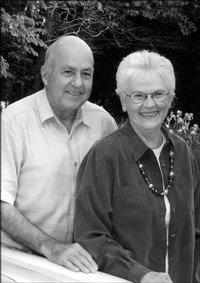 Jack and Ella Anderson, rural McLouth, will celebrate their 50th wedding anniversary with a reception from 2 p.m. to 4 p.m. Sept. 2 at North Lawrence Christian Church, 647 Elm St. Friends and family are invited.
Jack Anderson and Ella Smith were married Sept. 2, 1956, in Lawrence.
Jack and Ella are Liberty Memorial High School graduates. Until retirement, Jack worked as a carpenter for Local 2279 and 1445. Ella was a secretary at Kansas University and Bert Nash Community Mental Health Center.
Hosts of the reception will be their children Marcie Anderson-Cox, Westminster, Colo., and Clay Anderson, Maui, Hawaii. They have two grandchildren.
The couple request no gifts.
loading...
Blog: Plan falls through for local group to purchase former Journal-World printing plant, develop downtown conference center

May 25, 2018 · 6 comments

Trump cancels summit, citing 'open hostility' by North Korea

May 24, 2018 · 36 comments

Opinion: The 3 hardest words: 'I was wrong'

May 24, 2018 · 20 comments

Proposition 1 foes will urge county to move forward with behavioral health campus, hire consultant to review criminal justice system

May 23, 2018 · 14 comments

City Commissioner Leslie Soden files to run for Douglas County Commission

May 24, 2018 · 6 comments

Letter to the editor: Not fit for Nobel

May 23, 2018 · 29 comments

Letter to the editor: Responsible cycling

May 23, 2018 · 7 comments

Opinion: Trump's risky decision on North Korea

May 25, 2018 · 4 comments

Gunman opens fire at high school near Houston, killing 10

May 18, 2018 · 67 comments

Views From Kansas: Legislators fumble on adoption bill

May 25, 2018 · 2 comments