A game in the life of acting Kansas basketball coach Norm Roberts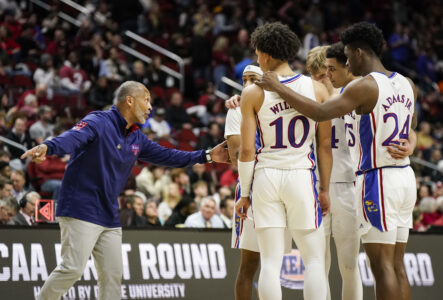 Des Moines, Iowa — The general consensus of opinion among the Jayhawks is that the biggest difference between the way assistant coach Norm Roberts manages a game on the bench and the way head coach Bill Self does it is that Self is much louder and Roberts is much calmer.
On Thursday afternoon at Wells Fargo Arena, my court-side seat for the Jayhawks' 96-68 win over No. 16 seed Howard was about 15 feet from the KU bench. So, I spent a good portion of the game documenting what other differences exist between the two, with Roberts serving as the Jayhawks' acting head coach for the eighth time this season and Self back at the team hotel still trying to heal up from his recent heart procedure.
By far the biggest thing that jumped out at me was how much more Roberts talks to himself during the game.
If you've paid any attention to Self on game days, you know that most everything he has to say is directed at someone. A player, a coach, an official, possibly even the Lord above — think Self's quip, "God, almighty!"
•
Box score: Kansas 96, Howard 68
•
Roberts' cooler, calmer sideline demeanor is easy to see because he keeps a lot of his words and thoughts to himself in those same moments that Self might let them fly.
KU point guard Bobby Pettiford said after Thursday's game that there are plenty of moments throughout games when Roberts will see something happen on the floor and then go to the player who plays that position or role and use the mistake or success as a teachable moment on the bench. A lot of coaches do that. And I saw some of that from Roberts. But most of his off-script language was reserved for him and him alone.
There's very little wasted time talking to officials, with him. He picks his spots and dives in only to move on seconds later. Like Self, he's enough of a veteran and a comedian to toss out a few one-liners that get the officials to crack a smile. And he seems to enjoy those moments as much as the referees do.
The rest of Roberts' sideline chatter without Self on the bench seems very scripted, with all of KU's assistants constantly talking to one another to make sure they and the team are all on the same page. Roberts regularly checks with and confirms various calls with the other assistant coaches around him, even on things he called himself.
A lot of that is what has made Roberts a great assistant for so many years. The experience. The wisdom. The attention-to-detail. The been-there-done-that demeanor.
No matter how you slice it, he looks like a steely veteran and he stalks the sideline with a fighter's face. This isn't just a fun experience for Roberts, who served as the head coach at St. John's in basketball-hotbed New York City for six years. This is business. The games are battles. And he's there to win.
That's not to say he's not enjoying himself. Roberts clearly enjoys the role and is comfortable in it. He stands calmly with his hands in his pockets or on his hips most of the time. He projects a picture of control at all times. The most animated I saw him on Thursday came during the timeouts, when he had his team's total attention and had a direct point to make.
One of the most intense live-action moments came late in the game, when Howard hit a deep 3-pointer after Pettiford was a half a step slow with the close-out. Roberts slid down the bench like he was doing a defensive shuffle drill, shouting to anyone who would listen, "Why, why," with genuine pain on his face.
That's the Self in him surfacing. And the two look most alike in moments of frustration. The reason behind that is simple. When you've been around basketball and coached as long as these two have, it truly pains you when you see players doing something the wrong way – be it because they blew the assignment or you didn't teach it well enough.
Roberts has done a great job of containing that emotion during his time filling in for Self these past two weeks, and several Jayhawks said he's the best on the bench at living by that "next-play" mentality.
In the moments when he does slip up and let a mistake consume him, he, too, has his own signature reaction.
Self's, you may well know, is the rubbing of his face or temples as if to illustrate that what he just witnessed actually made his head ache.
In those same moments of frustration, Roberts locks his hands above his head and pulls them in opposite directions. The moments are short-lived, just like his conversations with the officials, but they are there from time to time.
Interestingly enough, KU freshman Gradey Dick said Roberts and Self have different demeanors both on the floor and in the locker room.
"Coach Self comes into the locker room to get us ready and he's a little more calm," Dick said after Thursday's win. "But Coach Roberts comes in here and he's the exact opposite before the game. He'll get you ready to run through a brick wall, and we did."
Roberts is famous for losing his voice quickly when he's in charge. But that doesn't stop him from talking throughout the game.
It's hard to know just how much of the chatter his players actually can hear, but he's constantly coaching in real time, with phrases like, "head up," when the players are flying up the floor in transition, or, "stay up," on Thursday when Howard was moving the ball from side to side looking for space to shoot from downtown.
Regardless of how he operates or who he's talking to, the sentiment from the players toward Roberts is reminiscent of that with which they treat Self.
"Coach Rob, he could be a head coach," said KU big man Ernest Udeh Jr., who was recruited by Roberts. "But we're a team, we're a program and whoever's running the point on that front, the message is the same, the plan is the same and we just have to execute."
That's the way Roberts appears to approach things himself.
The mistakes and miscues may grab ahold of him from time to time. But he's quick to move past them and more often than not the pain on his face and wringing of his hands gives way to smiles and clapping.
There was plenty to smile and clap about on Thursday, and now the Jayhawks move on to Saturday, awaiting word on Self's availability and getting ready for 8th-seeded Arkansas in the meantime.