Kansas basketball coach Bill Self ruled out for Saturday's 2nd-round clash with Arkansas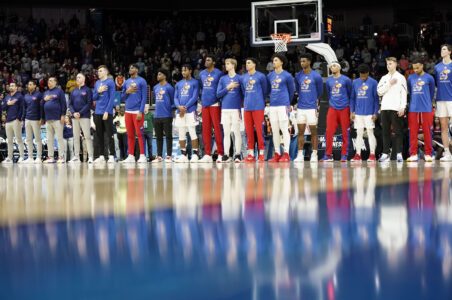 Des Moines, Iowa — The top-seeded Kansas men's basketball team will be without head coach Bill Self for a fifth consecutive game when it takes on No. 8 seed Arkansas in today's second round.
KU officially ruled Self out for the contest just after 10 a.m. on Saturday. Assistant coach Norm Roberts will continue to serve as the team's acting head coach in Self's absence.
The Jayhawks (28-7) and Razorbacks (21-13) will tip off at 4:15 p.m. at Wells Fargo Arena, with a trip to the Sweet 16 in Las Vegas on the line.
Self, who was released from the hospital last Sunday after a five-day stay following a stent procedure that kept him away from last week's Big 12 tournament, made the trip to Des Moines with his family and traveled separately from the rest of the team.
Before being ruled out of Thursday's win over Howard in Round 1, Self told play-by-play voice Brian Hanni on the radio broadcast that he was "doing better."
"I'm feeling stronger and everything," Self told Hanni. "I don't think I'm at the point where I could be very good for our team if I was out there."
Self watched Thursday's game from the team hotel and is expected to do the same for Saturday's game.
Self has been with the team in meetings and at practice this week in Des Moines, helping create the game plan and go over the Jayhawks' scouting report. But his role at practices has been limited to a lot of sitting and instructing, which he told Hanni he was "getting better at."
The Jayhawks are 7-1 in eight games without Self this season — four for a university-imposed suspension to open the season, three more at the Big 12 tournament last week and Thursday's NCAA Tournament opener.
The official release on Self's status for Saturday's game indicated that the Hall of Famer now in his 20th season in charge of the KU program continues to be day to day as he recovers.