KU-Arkansas Notebook: Self status, team comps, Big 12 vs. SEC chatter and more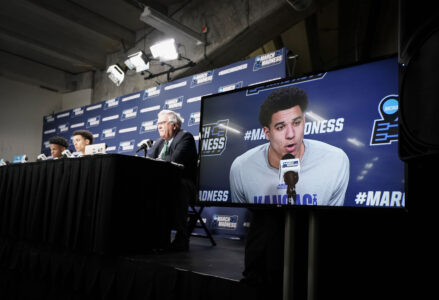 Des Moines, Iowa — For the eighth day in a nine-day span, the health and availability of head coach Bill Self was a popular topic on Friday at Wells Fargo Arena.
While the top-seeded Jayhawks were busy discussing their preparation for Saturday's clash with No. 8 seed Arkansas — 4:15 p.m. tipoff on CBS — several of them were asked if there was any new news on Self's status.
The short answer was no.
"Coach is doing well; it's a day-to-day situation with him," acting KU coach Norm Roberts said Friday, recycling the words he had used several times throughout the past week. "He was in practice with our guys just a little while ago and coaching them so we we'll see what happens."
Self was actually spotted at Wells Fargo Arena on Friday, smiling and walking out of the arena after KU's closed practice session. Whether he's able to return to that spot for Saturday's game remains unclear, but the Jayhawks said their focus would not change no matter who was leading them.
"Coach Self has been around us, he's doing great," KU guard Kevin McCullar Jr. said Friday. "And having coach Rob pushing us, it's no drop-off. Coach knows what he's doing and he's a mirror image of coach Self. He gets us the game plan and we out there and execute."
A year ago, some of the Razorbacks had their own experience of playing a game without their head coach. But that was a one-game blip, when Eric Musselman missed a road win at LSU because of shoulder surgery.
"I couldn't imagine what it's like for us to play without Muss," Arkansas freshman Jordan Walsh said Friday. "So I could just imagine what those guys are going through in their heads. Obviously, I wish the best for the coach. I hope he's healthy."
Musselman agreed and said he, and the rest of the college basketball world, have the utmost respect for Self, his staff and what they've been able to accomplish at KU.
"We all want coach to be as healthy as possible and to get back to coaching as quick as he can," Musselman said. "But having said that, they're a well-oiled machine in how they go about their business and how they execute."
Playing the comparison game
Several Kansas players were asked on Friday if there was a team they had faced that reminded them of Arkansas.
The most popular answer was TCU, with a little Texas sprinkled in there, as well. Those teams went 3-2 against the Jayhawks this season and that reminder, as well as their respect for Arkansas' personnel, had the Jayhawks locked in on the task at hand on Friday.
"I don't think anybody in the country has as many athletes as Arkansas has," Roberts said Friday. "We have had different teams in our league that are pretty athletic. Baylor was athletic but they're not as tall (and) long. West Virginia is long but they're not as fast. So, we played a combination of those things. Probably the closest one would be Texas."
On the flip side, when the Arkansas players were asked which team KU reminded them of, both Walsh and senior Kamani Johnson quickly pointed to KU's bitter border rival, Missouri.
"I would think Texas A&M or maybe Mizzou when Kobe (Brown) is at the 5 and the way they move the ball," Johnson said. "They run well in transition, so those are the two teams I could compare them to."
Added Walsh: "I would agree with Mizzou, but Kansas is their own school. They have their own wrinkles and a coach that knows the game in and out, so a lot of respect for that. They have a 5 man (KJ Adams) who wants to make plays on the perimeter, who is throwing bullet passes through the defense to hit a flare to Gradey Dick all the way in the corner. Just small stuff like that separates them from other SEC teams."
Big 12 vs. SEC
Speaking of the two conferences, the two Arkansas players who stepped to the dais on Friday were asked if they had any extra incentive to win this one for the SEC, and both Johnson and Walsh pointed to the fact that they've always believed the SEC to be the tougher conference, despite the Big 12's status as the nation's best conference this season.
"I don't know when that switched or who gave that title up, but we've been known to be the tougher, more physical conference out of anybody," Johnson said. "(In) the SEC, we've got a lot of athletes, a lot of length and size, and I think the SEC is probably the toughest conference to play basketball in. The Big 12 has had a great year, though."
Added Walsh: "I'm new to college, so I'm new to these things, but I've learned that everybody has their own little signature things about them. There is something special about every conference. Me personally, I feel like the SEC is the best. It's two good conferences with good players."
It's been several weeks since the head-to-head showdown between the two, but the Big 12 won seven of the 10 matchups in this year's Big 12/SEC Challenge, giving KU's conference a 55-44 edge in the 10-year history of the showdown.
"Playing in the Big 12, I feel like we've been battle-tested," McCullar said. "And them playing in the SEC, they've been battle-tested. So it's going to be a great matchup and it's going to be fun."
The NBA is watching
Depending on where you look, three players in this matchup are projected as lottery picks in this summer's NBA draft, with Gradey Dick at Kansas and Nick Smith Jr. and Anthony Black at Arkansas.
Asked about the influx of NBA talent in the game, which likely features other players as well, most notably KU's Jalen Wilson, Roberts said he expected that to make it an entertaining matchup.
"Oh yeah," he said. "It's going to be up and down and they're always in attack mode. We want to be in that same mode throughout the game. It's going to come down to getting stops – stops and rebounding the basketball."
Familiarity with the Hogs
Kansas guard Bobby Pettiford and Arkansas guard Ricky Council IV both grew up in Durham, North Carolina, and Pettiford said Friday that he's known Council for as long as he can remember.
The two played on the Carolina Crossovers together and have been in touch throughout their college careers. Council, a 6-foot-6, 205-pound guard, is averaging 16 points per game for Arkansas in his first year with the program after transferring from Wichita State.
"Ricky is an explosive athlete," Roberts said on Friday. "His first step is ridiculously quick, and he's explosive to the rim. He's a really, really good player, and he's had a great year for them."
Another connection between the Jayhawks and Razorbacks on Saturday comes from Dick, who spent time playing against several of the Arkansas freshmen on the national AAU circuit before coming to Kansas.
"I'm familiar with a lot of their freshmen," Dick said Friday. "I played against them, so that will be a fun matchup. The overall team is super-athletic and they have the mindset to score the ball. (Whether) the shot goes in or out, they don't really (worry about it). The next possession, they are going to let it fly."