KU men's basketball slated for three exhibition games in Puerto Rico in early August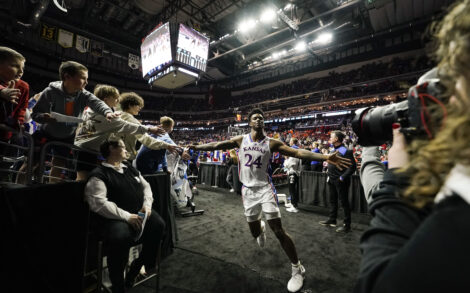 Amid an offseason that has featured some of the most significant roster turnover in recent Kansas men's basketball history, the new-look Jayhawks will get a chance to bond before the going gets tough.
KU will embark on its first summer tour since a 2017 trip to Rome when it travels to Puerto Rico from Aug. 1-8.
The Jayhawks, who will be based out of the capital, San Juan, are currently scheduled for one evening exhibition game each on Aug. 3, 5 and 7, as Anthony Walton, proprietor of Houston-based event organizer Walton Sports & Entertainment, confirmed to the Journal-World Wednesday night. (Travel agent Mona Behringer, on behalf of fellow organizer First in Service Travel, had provided the same dates Wednesday morning but noted they were "still not official.")
KU's opponents for these exhibitions remain undecided, as Walton said that Puerto Rico's nearly 100-year-old league, one of the oldest extant basketball leagues in the world, features a slew of teams that want to take on the Jayhawks.
"So we're just picking and choosing which ones would be the best competition for Kansas," he said.
When KU visited Rome six years ago, it got the chance to rotate through a variety of personnel as it beat four Italian sides by an average of more than 34 points.
News of the trip emerged from an email to Williams Education Fund donors from the development team at Kansas Athletics. The Journal-World obtained an online copy of the email, which entices fans with "seven nights at the luxurious Fairmont El San Juan Hotel located right off of the beautiful coast of Puerto Rico."
Kansas Athletics declined to comment on the trip. The email message, for its part, links to further details on packages, starting at $1,955 for the weeklong extravaganza, available at kusju.com. Attendees must book by June 30.
Walton said KU fans would appreciate the pleasant environment of San Juan, which he drily characterized as "just like Lawrence, except it would have a really nice beach."
He added that supporters would get a chance to see the Jayhawks thrice in rapid succession, an opportunity that isn't often available in Lawrence.
"We all know how tough a ticket it is to get to Allen Fieldhouse," he said.
For the team itself, a "foreign tour" (as such excursions are typically called, though Puerto Rico is a domestic destination; NCAA Bylaw 17.31.1.1 says a trip to an American commonwealth "may be considered a foreign tour") provides not just three games with atypical opponents against a scenic backdrop, but also a maximum of 10 days of preseason practice prior to departure.
This year's Jayhawks, with their four incoming transfers and four freshmen, will thus get a chance to jell in late July.