Lawrence City Commission approves 85-acre annexation that plans to add 300-plus homes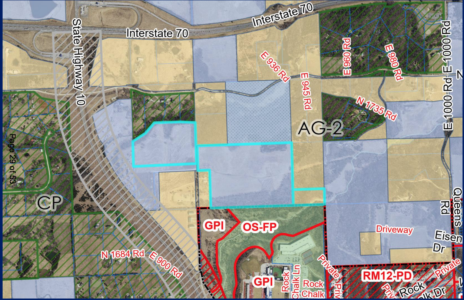 photo by: City of Lawrence
For the second time in as many weeks, Lawrence city leaders have approved an expansion of the city's boundaries to accommodate additional housing.
As part of its meeting Tuesday, the Lawrence City Commission voted 5-0 to annex 85 acres located east of Kansas Highway 10 and south of North 1750 Road and rezone the property for medium-density housing. Commissioners agreed there was a great need for housing and said they appreciated the developer's concept for the neighborhood.
"Ultimately, I will expect a high degree of density, and it's going to deliver a lot of what we need," Commissioner Courtney Shipley said.
The developer plans to build more than 300 homes on the site, which is directly north of Rock Chalk Park on the northwestern edge of the city. Conceptual plans for the project, which is being proposed by Garber Enterprises, call for more than 300 RS5 lots, which have a minimum size of 5,000 square feet.
Commissioner Amber Sellers asked about the price point for the homes and whether they would be considered market-rate for Lawrence incomes. David Hamby, a representative of the developer, said he couldn't yet give a specific price, as there was a lot of supporting infrastructure to build. But he also said that the point of creating the smaller lots was to help spread out those costs among more homeowners to keep prices down.
"The goal is to make this as dense as possible within the zoning code and within reasonable factors, and that will help spread out the cost," Hamby said.
Commissioner Brad Finkeldei said that perhaps by the time the homes are ready to be built, the city may have approved its new development code, which could allow for even denser development in that zoning district. Mayor Lisa Larsen said she would have loved to see some mixed-use development, rather than all single-family homes, but that she would support the plan that was in front of them.
The city's professional planning staff recommended the annexation, citing its compliance with the city's urban growth plan and a critical need for additional single-family residential lots. The property is on the northwestern edge of the city and is within the Perry-Lecompton school district. However, school choice legislation goes into effect in the 2024-2025 school year, meaning families could potentially request a transfer to the Lawrence school district.
This is the second recent annexation approved by city leaders. The commission voted last week to expand the city's boundaries southward, approving an annexation for 143.41 acres located at the southeast corner of the South Lawrence Trafficway and Iowa Street (U.S. 59).