'One little link of a big chain:' The congregation of Ninth Street Missionary Baptist Church gears up to celebrate 160th anniversary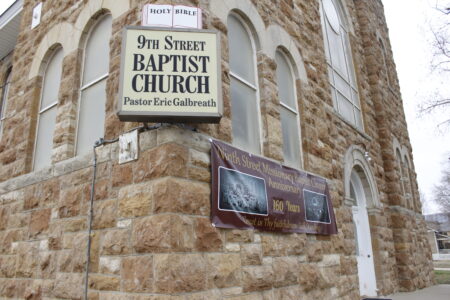 photo by: Austin Hornbostel/Journal-World
It's not every day that you encounter a community fixture that's been around for 160 years and counting — but then again, not every congregation is quite like Ninth Street Missionary Baptist Church.
First established in 1863, the church is celebrating its milestone 160th anniversary this year and has no plans of slowing down any time soon. The church is one of two Black congregations from Lawrence's early history, along with St. Luke's AME, that remain active today.
Folks looking to celebrate the occasion with Ninth Street's congregation will have plenty of opportunities to do so in the next week. A reunion concert is set for Friday, March 24 at 7 p.m., and the congregation will host a game night and chili cookoff the next day at 5 p.m. The worship service at 10:45 a.m. Sunday, March 26 will feature guest speaker Pastor Rene Brown — a former Ninth Street minister — who will be bringing along the choir from his current congregation at Mt. Zion First Baptist Church in Baton Rouge, Louisiana. The congregation will keep the party going with a picnic Sunday afternoon from 2 to 6 p.m. at Flory Meeting Hall on the Douglas County Fairgrounds, 2120 Harper St.
Takisha Derritt, who's serving as the coordinator for the church's reunion concert, calls the program a "blast from the past." It'll include songs that the congregation will be familiar with from earlier in the church's history, prominently featuring old musicians and previous choir directors. Derritt told the Journal-World that the reunion choir would be a few times larger than the church's usual choir, which has about 10 singers. The group for the reunion concert had 42 people signed up as of last week, she said.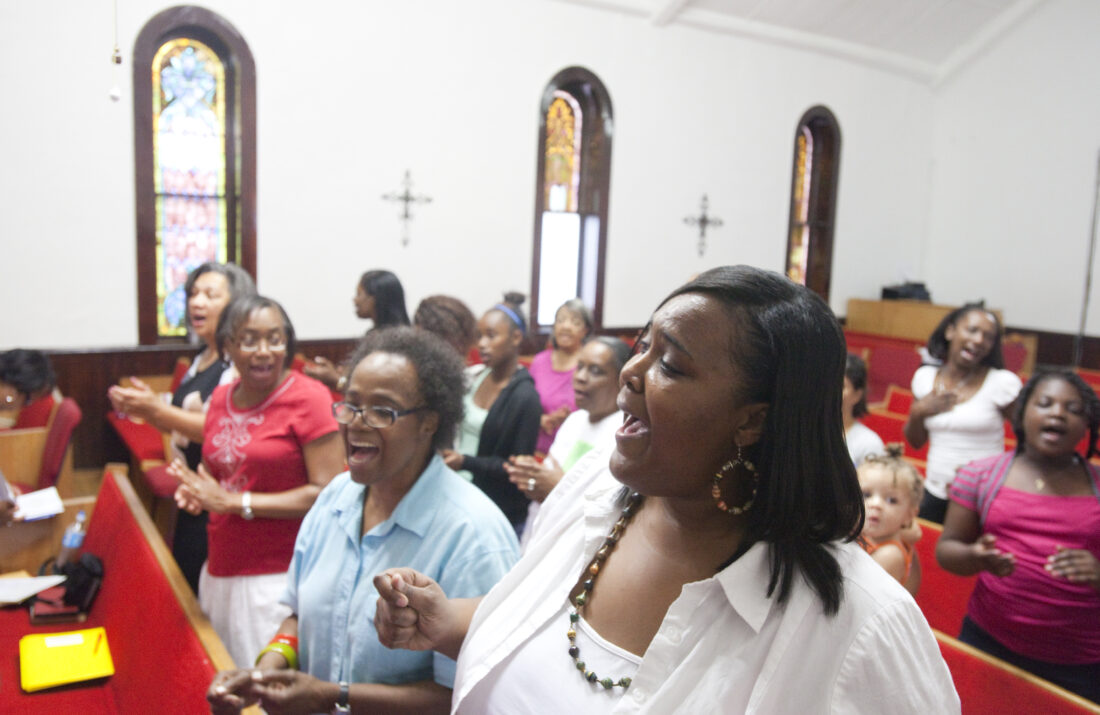 photo by: Nick Krug/Journal-World
There will be folks traveling to Lawrence not just from Baton Rouge but also from Florida, Texas and Missouri. Derritt said the congregation has also extended an invitation to the Lawrence City Commission, and she's expecting some commissioners will attend.
"It's going to be a packed house," added Karen Presswood, who's serving as the coordinator of the anniversary celebrations.
Adapting to change
Much like the rest of the world, the church's most recent history is shaped by how it responded to COVID-19. Guidelines handed down from state leaders across the country halted in-person church services during the height of the pandemic, and that was no different for Ninth Street Missionary Baptist.
But that didn't matter much. In fact, the congregation never missed a Sunday service, even though it couldn't gather physically for a while. Presswood said to work around COVID restrictions, Pastor Eric Galbreath began pre-recording his messages — first at home and eventually at the pulpit of the empty church — and edited them together with other elements to create a video of one continuous service. Those videos were then uploaded for the congregation to watch. Later on, they'd all tune in together via Zoom for a live-streamed watch party.
"We didn't miss a beat," Presswood said. "When we say it's the 160th (anniversary), it really is. It kept going — it never stopped."
And it ultimately turned into something of a positive for the congregation. While many folks may still be more cautious about gathering in person, Presswood said Ninth Street has gained members from across the country who still attend the hybrid services online today. It allows her children in Colorado and Texas to tune in, for example, or for past congregation members who have moved away to bridge the distance.
Some congregation members have never even set foot in Lawrence — they've been active participants, but on an entirely virtual basis.
"If ministering is your passion, I think the whole pandemic really showed that, you know?" Galbreath told the Journal-World. "… There's no other option but to find a way."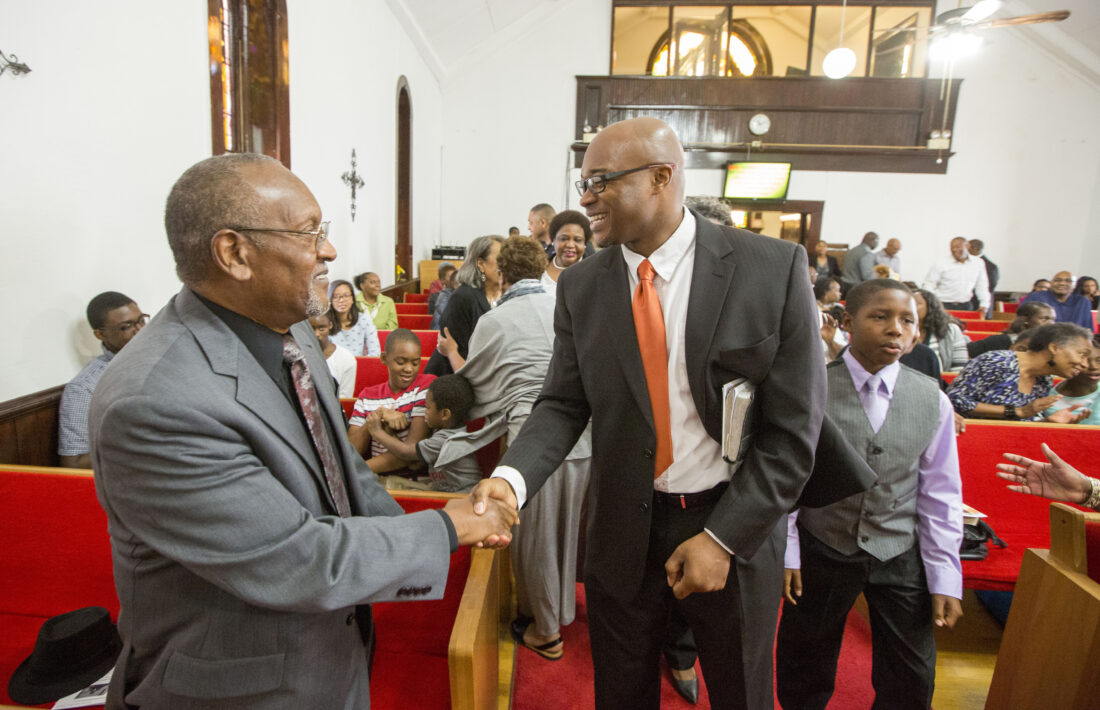 photo by: File
Watching history unfold
Although there isn't anyone alive today who was around to witness the church's earliest decades firsthand, there are some members of the congregation who've seen a great many of the more recent ones. That includes Daphne Payne, a member since 1961 who came to Lawrence at age 24 to be a teacher.
In Payne's more than 60 years with the congregation, she's been involved in many ways — from serving as an organist and pianist for a decade to being president of the congregation's usher board. She said she may very well be the oldest active member of the congregation, and she's still serving as a deaconess and on the committee planning the anniversary events.
"I never get lonely," Payne said. "I live by myself, but I never get lonely at all."
Over the years, Payne has been able to see firsthand how Ninth Street Missionary Baptist has operated as a "transition congregation" for students at the University of Kansas. With its proximity to campus, it became a hub for students who were looking for a service to attend regularly while they were living away from home.
"They stay for a while, some are active, and then they go their separate ways to their jobs and all of that," Payne said. "And some of those, I think, will be some of the people who are coming back to our anniversary."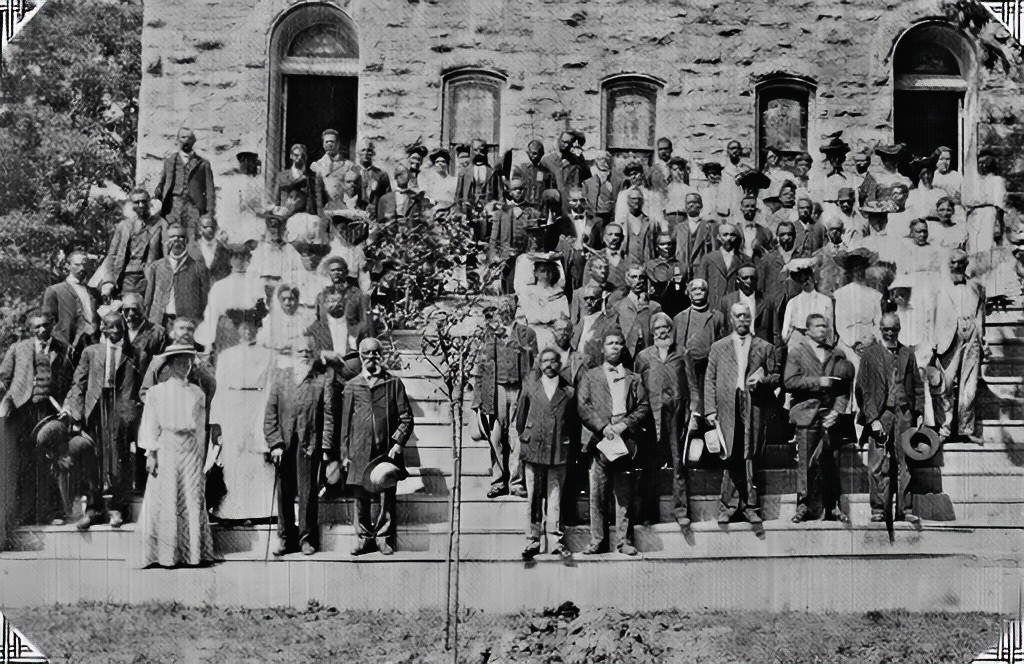 photo by: Glenn Foster
Galbreath was one of those students himself. He's a former KU football player with a strong connection to the college ministry.
Because of those connections, Payne said it's even easier to run into folks with an association to Ninth Street Missionary Baptist when traveling to other states. On a visit to Annapolis, Maryland, for example, she ran into a chaplain at the U.S. Naval Academy who had visited the church before.
"When you go everywhere, you're going to meet somebody who has been associated, affiliated with our church," Payne said.
What comes next
It's hard to tell what the world will be like a century from now, but for the time being, at least, Galbreath said he's happy to have played even a small part in the first 160 years of Ninth Street Missionary Baptist Church's story.
"I'm just grateful to be a part of one little link of a big chain," Galbreath said. "… For this season that we're here and God has allowed us to be a part of this, we're going to do our best, and I'm just grateful for the opportunity to serve. Maybe 160 years from now, somebody else will be saying the same thing."
After the congregation takes its time to look back, it'll be quickly looking forward. Derritt said the church will be focusing on continuing ministries and partnerships like the church's relationship with Lawrence nonprofit Family Promise and faith-based advocacy group Justice Matters. Ninth Street is very involved with hosting families who need a place to stay through Family Promise's homelessness prevention program, often housing them at the outreach center next door to the church.
Other outreach opportunities are returning after an absence, like a nursing home ministry, or are brand-new like an interfaith mental health ministry in partnership with Bert Nash Community Mental Health Center.
"One thing that's (Galbreath's) focus is us being a 'ministry-minded' church," Presswood added. "So all the different things we do are connected with that focus in mind, and he's had that focus ever since he first started here in 2015."
But another big piece of the puzzle in the immediate future will be ensuring that the church building is still standing for generations to come — and that'll take some renovation work. Church administrator Cynthia Eubanks told the Journal-World earlier this week that while nothing is set in stone yet, there are plenty of needs she hopes the church will be able to address this year.
"We know that we have quite a few needs, and we are in the process of trying to find an architect," Eubanks said. "We know that we're going to need to do quite a bit of renovation on the existing church building."
That'll include the walls in the church's basement fellowship hall, she said. They're made of plaster, and they've crumbled and broken enough that there's more plaster on the floor than there is on the wall. The church is also looking into a number of other renovations and repairs — adding energy-efficient lighting, replacing floors and completely renovating the church's kitchen.
One especially important wish list item is creating better access from the fellowship hall to the sanctuary, spaces which are currently separated by a flight of stairs. Eubanks said that ties into other accessibility efforts that are on the list, like installing ADA-accessible restrooms. There's also no ADA-accessible way to access the sanctuary from other parts of the building; the only ADA-accessible entrance to the sanctuary is a ramp that's located outside of the building.
"All of this … is just the beginning," Eubanks said. "With a very old building, you can imagine there's lots of maintenance and lots of things that we need to do so that it meets the needs of the people today. That is our start."
Eubanks said the church plans on kicking off a fundraising campaign before the end of the year and also plans on pursuing some grants. She said if folks want to lend some support, it'd be especially helpful to get some direction on where might be the best places to look for grants that could make a dent.
"The church is praying, we're analyzing, we're talking to architects, we're doing everything we can because we want to make sure that the decisions we make moving forward are ones that will last for the life of the building," Eubanks said. "Because otherwise, we've had people say to us, 'Well, my gosh, why are you putting so much money into that old building? You guys could just buy a different building that would meet all your needs.' But there's a lot of history in that building — there's a lot of meaning for us."
For more information about the anniversary events or the upcoming renovation work, contact the church at churchadmin@9stmbc.org or 785-843-6472.