There was a lot happening on the local blogs this week besides the Sidewalk Sale, so I thought I'd round up those gems - though the sale did make its way in a tiny bit. Here's what's going on:
• As always, Larryville Artists helps keep Lawrencians up on the art scene, local and otherwise. Check out today's post about artists Molly Murphy and Clare Doveton's display at the Landmark Bank on 6th and Wakarusa streets. Also get a little recap on yesterday's Sidewalk Sale.
• Local Italian food gem the Basil Leaf Cafe has been making the Internet rounds, as The Pitch describes the restaurant's latest evolution from tiny, hole-in-the-gas-station-wall to a grown up location (also mentioned in this week's Off The Beaten Plate).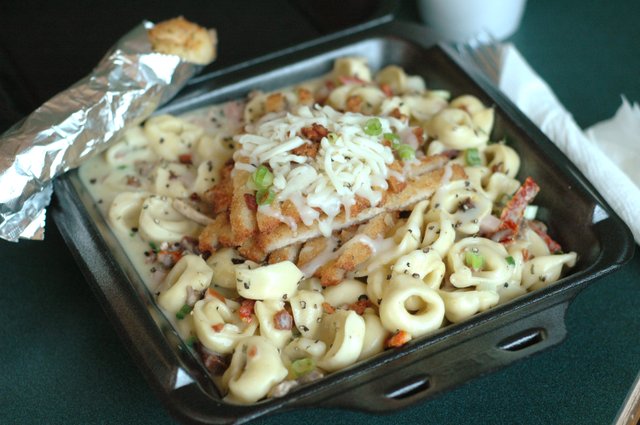 Photo by Sara Shepherd
• Speaking of Lawrence restaurants, amongst the hubbub of the Sidewalk Sale, The Roost opened for breakfast and food photos populated the Lawrence Twitterverse: here, here and here.
• Always wanted to make wax batik? Want to find out what wax batik is? Well, attend this wax batik workshop Saturday at the Percolator (it's a pretty cool form of art).
• The fashion blogs bring us trucker hats and aviators on Style on the Hill and Kansas Couture goes vintage with patriotic square heels.
• In photo blogs, Lawrence-based photographer, Travis Young, posted a beautiful photo of the sky on campus on his blog and Heck Yes Lawrence, Kansas has shots of Free State Brewery (among other locations). Also, Britt Ernst posted this wistful photo taken in Lawrence.
-
Submit it to The Lasso
What's going on around town? Got a blog, or know of a cool event, a Lawrence-related meme, fun facts or generally interesting happenings? Tell me about it! Email me or follow me on Twitter.
A New York wedding
Maybe their KU basketball fandom wasn't enough to lure Kansas native Jason Sudeikis and his fiancee actress Olivia Wilde back here for their wedding, as a few early rumors indicated might be the case. In the latest update, the New York Post reported this week that the wedding will be in upstate New York next spring. The latest US Weekly (or was it a different tabloid I was reading at the gym...?) also ran a picture of the two at a recent Knicks game and quoted Wilde gushing about how great a New York wedding would be. (Side note: One might think Sudeikis would wear a Knicks hat to a Knicks game. Nope.)
The Voice?
According to show producers, KU student Caroline Glaser made it through blind auditions — the first elimination round — on the television show, "The Voice." Our KU reporter, Matt Erickson, posted an update on his blog earlier this week. She's not listed as a current student, but at least one source reported she withdrew to shoot for a music career. Her song? "Tiny Dancer." Watch the video here.
A spot of tea
The local Daughters of the British Empire chapter is planning a "Downton Abbey"-themed tea May 4 at the Castle Tea Room. Attendees will dine on finger sandwiches, tea breads and scones with jam and clotted cream (yum!), and are encouraged to wear hats or dress in character.
Almond (flour) joy
Java Break is now selling bulk almond flour. Yes, that seems like a weird thing to pick up with a cup of coffee, but there's actually a good explanation. Java Break has been making its own almond milk for a while. They're now using those almonds to make flour, too, and using that to make their gluten-free raspberry and blackberry matrimonials and peanut butter cookies. For gluten-free home cooks, the extra flour is for sale at $5 for a quarter pound.
Last chance
Best of Lawrence voting ends today! If you haven't already taken the survey (and you can only take it once), here's the link.
Your weekly roundup of Lawrence food, art and other items of interest from the web.
Animal guy
Famous animal activist and author of "Farm Sanctuary: Changing Hearts and Minds About Animals and Food" Gene Baur is appearing in Lawrence Saturday at the Burge Union. He's a keynote speaker at the Great Plains Conference on Animals and the Environment.
Brew to Brew
Thousands of runners will tag-team 44.4 miles from Kansas City's Boulevard Brewery to Lawrence's Free State Brewery Sunday for the annual Brew to Brew relay. Beer is an excellent recovery drink, asserts relay ambassador Ashley Austin, who shares her top 10 post-run brews on the relay Website. (I personally feel that running Brew to Brew without at least a little pre-race beer is missing the whole point. It may be 7:30 a.m. but a free pour of Boulevard at the starting line really helps you get in the right spirit.)
Beets are the new...
I picked Teller's Field Favour for this week's Lawrence Libation, thinking a cocktail made with beets was pretty far-out. The Burger Stand also is using the bright red root veggie in its latest special, a burger patty made of beets and rice.
Cake art
Up there with "La Pia de' Tolomei," Wayne Thiebaud's "Around the Cake" is probably one of the best-loved paintings at the Spencer Museum of Art. But that's not his only cake painting. At least one other Thiebaud is featured in a new cookbook from San Francisco Museum of Modern Art baker Caitlin Freeman, "Modern Art Desserts: Recipes for Cakes, Cookies, Confections, and Frozen Treats Based on Iconic Works of Art." Some of her recipes are only conceptually inspired by artworks. But her real-life version of Thiebaud's "Chocolate Cake" is a dead-ringer for the original. (Hat tip to the Spencer's Facebook page for sharing this link!)
"The Story of Luke"
The New York Times reviewed this movie, Lawrence native Alonso Mayo's first feature-length film. It's a story inspired by personal experience that's opening in 18 cities nationwide tonight, including a one-time screening at Liberty Hall.
Burger watch
About 200 people have now weighed in on our "Best Burger" Facebook post — including at least one person who says Burger King serves the best burgers in Lawrence. Cast a vote that actually counts by taking the official 2013 Best of Lawrence online survey.
This week's roundup is heavy on the food and drink. Between St. Patrick's Day and March Madness, there's a lot of that going around.
Eats o' the Irish
A few of the Irish-inspired food specials I've spotted: There's Celtic ale bread, Irish soda bread and shamrock cookies at Wheatfields. Those are only available until Sunday, but Wheatfields is serving Corned Beef and Cabbage all month. Billy Vanilly has created Green Velvet Cupcakes. Sunday afternoon only, there's going to be traditional Irish stew at the Bourgeois Pig. At Dempsey's, opening at 9:30 a.m. Sunday, get corned beef and hash for breakfast and mini Reuben sliders braised in Guinness throughout the day. (If you know of other special St. Pat's eats, help your fellow Lawrencians and add links in the comments!)
St. Patio Show
I'm having a hard time visualizing the Replay patio as shiny and new, but it is (though probably not for long). They've been doing construction over the winter, and the new patio is ready to be christened with a weekend of partying. On Saturday, there's Fake Patrick's Day Prom (a benefit for the Social Service League), and on Sunday the St. Patio Show (music starts at 3 p.m.).
Coffee Ale
Boulevard didn't make Chocolate Ale this year but instead collaborated with the Roasterie of Kansas City, Mo., to create Coffee Ale. The Smokestack Series special release is expected to hit shelves Tuesday.
The Miracle Shot
NCAA March Madness is here, and the Oread and Eldridge picked their monthly "cause" drink to suit — the Miracle Shot Martini. This version of Mario's Miracle is a layer of red, a layer of blue and a yellow twist, and $3 from each $10 drink goes to the Mario V. Chalmers Foundation. The foundation's mission, according to its website, is "to create and support community based programs that encourage the positive development of youth through sports and education and fund initiatives for breast cancer research and treatment."
Cookies and Cream milk
Iwig Dairy's milk flavor of the month for March is Cookies and Cream. To see the cows this milk comes from in action, the dairy also is starting up its spring farm tours, with the next one coming Wednesday.
Cy the crotchet needle guy
I wrote about Cy the Drum Guy of Baldwin last fall while he was building a giant drum for the Kansas City Chiefs. In addition to his usual drums and didgeridoos, Cy is now making other wooden stuff and selling it on Etsy. Knitters (and people in the market for tiny looms), take note.
Who was Prester John?
If you made it to Nerd Nite on Tuesday, you already know. For the rest of us, Larryville Chronicles and Larryville Artists have shared recaps so we, too, know the answer to this question.
Spotted, sharing:
Sweet Bad Religion coasters
Bad Religion plays Granada April 8. If you're on the fence about whether to go, consider this: An Instagram post from the theater promises people who get their tickets early at the box office can get a pair of these "sweet" coasters.
Carolina style barbecue ... burritos?
Frank's North Star Tavern posted on its Facebook page that Mr. Bacon BBQ — the food truck — will be at the bar from 5-8 p.m. tonight. Frank's also is claiming Mr. Bacon serves barbecue burritos with coleslaw. I haven't verified that, but if it's true they sound awesome.
10 alcohol related world records
Have you ever wondered what the world's most expensive cocktail is? I hadn't — until I saw a tease to this article on Twitter (via @kcwineguy). Now I know.
Burlesque drawing with Bunny Baltimore
I love that our local artists and our local burlesque troupe team up for events like this and the "Sketch Teases" at Seed Co. Studios. The Larryville Artists blog this week posted pic's of a few Alphonse Mucha-inspired tableaus from the Thieves Guild's monthly burlesque drawing event at Fatso's.
Get ready for 'Foodie Fiction'
Bon Appetit shares seven novels "for those of us who like to read, eat, and read about eating. Many of them, to my surprise, combine food and history with murder (will the gastro-thriller emerge as the breakway category?). And of course, love."
Feature of the week: "What Love Is"
"She kept not dying. He was born different. Her parents wished for a normal life. This is their love." That was The Washington Post's Twitter tease for this beautiful story. It didn't disappoint.