LJWorld.com weblogs Smithology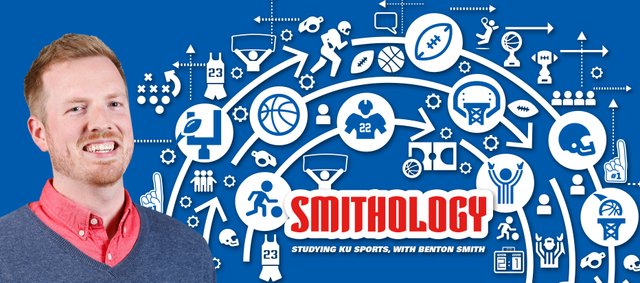 Bill Self press conference notes: Jan. 23
Kansas University men's basketball coach Bill Self fielded questions from the media this afternoon at Allen Fieldhouse.
The No. 8-ranked Jayhawks (14-4 overall, 5-0 Big 12) travel to play at TCU (9-9, 0-6), in Fort Worth, Texas, Saturday night.
KU is coming off four straight wins against nationally ranked opponents.
TCU lost Wednesday night at No. 25 Oklahoma, 77-69, but the game was tied with less than four minutes to go.
The Horned Frogs were winless in conference last year, too, when they beat Kansas, 62-55, at Daniel-Meyer Coliseum.
Here are the highlights from today's session.
Bill Self speaks with media before KU leaves for trip to TCU
Frank Mason has done really well. He's very competitive and gives KU a burst of energy and athleticism off the bench. Unique talent on the roster.

Sometimes, depending on matchups, it's hard to play "two little guards," in Mason and Naadir Tharpe, from a defensive standpoint. From an offensive standpoint, it works better.

KU will turn it over. The Jayhawks are just forcing too many plays that turn into give-aways. Moving forward, Jayhawks have to eliminate bad possessions. That will give them a much better chance.

Self has never been one to use things such as last year's loss at TCU as motivation. But he will talk about it before the Jayhawks play down there Saturday night. It won't be the determining factor.

Self has been a part of some strange games, but last year at TCU was one of the strangest. Everybody has bizarre games. It doesn't happen exclusively to KU. It seemed like everyone was focused and ready to go. So the play and result shocked the KU coaching staff.

There aren't tactics and ploys to get players ready for one event. There are so many games that doesn't necessarily work. Coaches can't tell players this game is huge every time they play.

The Jayhawks play well when there is energy in the building. Self anticipates the building will be full at TCU on Saturday. Those are the environments you have to play well in.

After loss to San Diego State loss, Self thought Kansas had a better chance of starting 0-5 in Big 12 than 5-0. Assistants disagreed, and he said, "Did you not see what I just saw?" It's not that he didn't think KU was a good team. At that moment he didn't think it was a good team.

Jayhawks are still a team that hasn't figured it out yet. If they had, they wouldn't be playing 10 guys. You don't need to play 10 guys. Some days Conner Frankamp provides the start, other times it's Brannen Greene. There are a lot of small things to figure out.

Self doesn't keep up with which Big 12 teams are playing against each other from week to week. He just worries about what Kansas is doing, and who his team is playing. When there are two weeks left in the season, he will be paying more attention. And sometimes Self will root for certain teams if outcomes would benefit KU.

TCU is "much improved" from last year. They've played better than their record and TCU could've won at Oklahoma Wednesday night. TCU is sound defensively and when they make shots they can be a dangerous team.

Karviar Shepherd, a freshman center for TCU, has a chance to be a really good player.

Tarik Black has played well off the bench. He brings energy, toughness. Black hasn't practiced yet because of his ankle injury, but should be good to go Saturday.

Between Jamari Traylor and Perry Ellis, Self likes to go with whomever has the hot hand. That's a nice option to have in a big-man rotation.

With KU's frontcourt depth, it doesn't hurt as badly when one player picks up a couple of early fouls.

Self thinks the offense hasn't been good for Kansas, because the turnovers are too high. The Jayhawks might have some good numbers, but he'll be more excited when KU doesn't waste so many possessions.

Kansas is averaging about 79 points, and that's not too far off from what other teams have done here under Self. This team might be better in the half court than other teams, though.

In the first semester, Jayhawks took care of their business in the classroom. Self was pretty proud of how the players did, especially considering how much traveling KU did. There were some C's that could've been B's and B's that could've been A's but he was mostly pleased.

When Self looks at Andrew Wiggins, he thinks he could be stronger with the ball. And that would make him more productive. There's not many guys that you look at and say he scored 20 but it could've been 28. His numbers should be in the vicinity of 20 points and 10 rebounds every game. Wiggins can get free points by putting his head down and driving more, getting to the foul line.

You could make a case Joel Embiid's production has been better than anybody on the team, but Wiggins is playing better than a lot of people say he has performed.
— Click here to listen to the entire press conference.
— Jayhawks Brannen Greene and Tarik Black also met with the media. Click on a player's name to hear what he had to say.