LJWorld.com weblogs Shop Talk with Jenn and Julie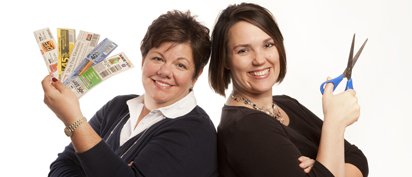 A homemade version of Febreze
My latest obsession is Pinterest.  It used to be, that when I couldn't sleep I would browse the Internet for recipes.  Now I just head over to pinterest.com and browse this site for recipes, decorating ideas, crafts, DIY projects; really just about anything you can think of.  And the great thing about it, is that you can pin what you want to save right on to your very own page.  It really is genius.
So over the weekend, while I was searching different categories on Pinterest, I found a recipe for fake Febreze pinned by Fake-it-Frugal. How clever, considering the price of one bottle of store bought Febreze.

I wondered if this homemade version would work.  The ingredients were simple enough.  So I tried it.   And yes, it does work.  The best part is you can customize the fragrance to your liking.
Three simple ingredients:  1/8 cup of your favorite fabric softener, 2 tablespoons of baking soda, and hot tap water to fill the spay bottle.  Shake it up. That's it.