LJWorld.com weblogs Shop Talk with Jenn and Julie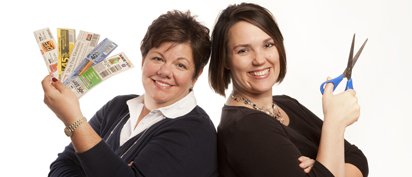 Text Messaging Can Save You Money
Companies are coming up with more and more ways to reach consumers and entice them with words like "Savings" and "Coupons". Sometimes the deals are amazing, other times.... its just an excuse to shower us with marketing. As consumers, it is our responsibility to know the difference between the two.
One new way that companies have started reaching their tried and true are through text message alerts in regards to hot sales and coupons. Target offers both mobile coupons and text messaging when you sign up online. You can choose the frequency and type of alerts you want to receive, as well as if you want the monthly mobile coupons.
Now HyVee is on board as well. You can sign up to receive text messages on sale items as well as special alerts on hot sales like "6 Hours Only" or promotions like $10 off of $50.

You can choose what items you are most interested in receiving sale information about; you can also choose to only have "Special Sales" sent your way. Either way, you control what comes to your phone and then you can judge if the deal is a good one for you. Not every deal will be great or even noteworthy, but having the heads up on even a couple of super deals is worth it to me.
Standard message rates will apply, if you don't have an unlimited text plan with your mobile carrier, you may want to rethink or minimize your subscriptions to text based applications like this one.
As always, use your best judgement on "sale" items and don't buy something just because the price has appeared to drop; enjoy your shopping and enjoy saving money!