LJWorld.com weblogs Shop Talk with Jenn and Julie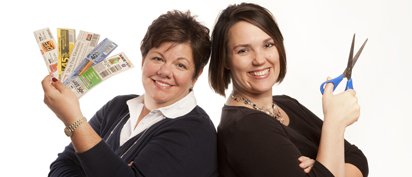 JCPenney introduces new pricing structure
I feel like for the past week all I've been seeing on TV are JCPenney commercials announcing something new.   I admit, I was a bit curious.  Also,  I wondered if their merchandising had changed.
So on Friday, I headed to our Lawrence JCP store.  We ll, it looked the same.  No remodel or merchandise change.  But as a sweet clerk explained to me, they are very excited about the new pricing structure.
Here is how it works.  No more weekly or midweek sales.  Pricing is set for the month.  JCP cardholders will receive monthly catalogs showing monthly sale items.   There is an everyday price, a month-long value or sale price, and a best or clearance price.  
Regular or everyday prices are marked on a red tag; month-long value pricing will be in a different color tag each month (For the month of February, the tag is pink.),  and the best or clearance price is a blue tag.
If you don't have a JCPenney credit card, you will not receive the monthly catalog, but the sales clerk told me there will still be weekly inserts in the newspaper to remind the public of monthly value items.
When I was at the store, I found a Liz Claiborne tunic top with a camisole included for $11 (blue tag).   I was happy with my purchase and the sales clerk who took the time to explain the pricing.  I always appreciate excellent customer service.