LJWorld.com weblogs Shop Talk with Jenn and Julie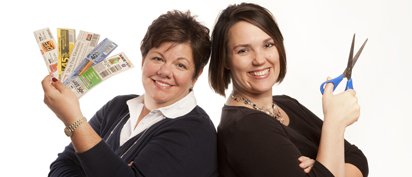 $0.01 Photo Prints at Kodak Gallery and Snapfish
Whether you are a shutterbug with tons of pictures just waiting to be printed (ahem) or you took a bunch of great pictures to remember your weekend by, these photo deals are sure to come in handy!
Snapfish by HP is having their $0.01 Print Sale from now until September 10. This is an amazing deal and a great time to get pictures together for photo albums or Christmas gifts! Follow this link and upload your photos (up to 500 per order) then enter the code PENNY094U at checkout for the discount to apply. This special only works with mail orders, not in store pick up, and you will still have to pay for shipping. The discount code only applies to the first 500 prints per order, but you can use the coupon up to 5 different times per customer.
Snapfish also has great deals on the softcover photo books..up to 67% off their normal prices. You can get 5 x 7 or 8 x 8 soft cover photo books starting at $3.96 now through September 10 using discount code BOOKS67 at checkout. I've used these books to make gifts for my kids... and we've let the kids pick out pictures from an outing or a special event and made them into these little books.
If the photos in your print que are 200 or less...this is an even better deal! Kodak Gallery is offering 200 prints for $1.99 shipped. You must follow this link and click on the banner at the top that states "200 Free 4 x 6 Prints" to get the deal. The discount will be automatically applied. This offer is good until September 14.
If you want photobooks or other Kodak products, you can receive 20% off of orders $30 or more now through September 7 by entering the discount code LABORDAY20 at checkout.
I've been watching photo deals for years....but I rarely took advantage of them until this year because it always seemed so daunting to pick out the pictures I wanted and get them all uploaded to whatever site was offering the deal. I finally figured out this year that as I take photos and see ones I would like to have in print, I slip a copy in a "To Print" folder. When these deals arrive I've got all of the photos I want to print in one location and I can upload the entire folder to the site. It is much simpler and makes it easy for me to get the great deals.
Have a fantastic Labor Day Weekend!