LJWorld.com weblogs Shop Talk with Jenn and Julie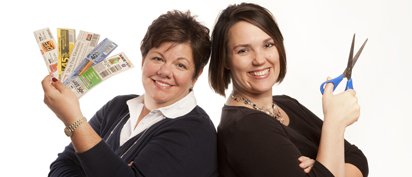 Anyone can be a crafter — these two projects come in at under $10
Crafting is a hobby I had always enjoyed, but because of work and busy schedules, I put on the back burner.  However, the last few weeks or so I found myself browsing the web looking for different ideas to get those creative juices flowing again.
I just needed something simple to get me going.  There was one item that I saw on several different blogs and websites.  Not only did this craft need to easy, it also had to be easy on the wallet.
So it doesn't get better than dollar store shopping. I went in with the intention of making a hurricane candle holder. I purchased a glass vase and a glass candlestick.  I told you it was going to be cheap and easy.  While I was in the store, I thought what else could I use the candlestick as a base for. Then I saw a glass bowl with a nice detailed pattern.  Perfect.
This is so easy — wash the glass pieces so there are no labels or sticky residue. I used E-6000 glue (purchased in Walmart's craft section) to glue the candlestick to the glass vase.  Let it set, placed a candle inside.  At this point, I thought it looked kind of plain, so I took a fall leaf I had laying around and tied it to the exterior of the vase with some raffia.  Much better.
I used the same process for the bowl and candlestick, with the exception of spray painting both pieces in glossy white.  I used Krylon primer and paint in one.  (Note: I sprayed only the exterior of the bowl.)  It took several light coats to get full coverage.  Once the candlestick and bowl were dry, I attached the candlestick to the bowl with the E-6000 glue.  Done.
I was pleased with the outcome of both pieces and both are versatile and can change with the seasons.  I was thinking that bowl would be cute in a powder room with decorative soaps or I may keep it on my dresser to house the jewelry I wear everyday.
As the holidays approach, I am looking for new and different crafts.  Any ideas or suggestions?