LJWorld.com weblogs Shop Talk with Jenn and Julie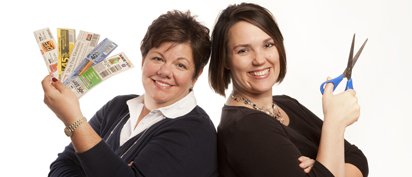 No pumpkin pie on Thanksgiving?
I don't know why, but pie crusts scare me.
I don't mean scare in the "boo" sense of the word. I mean making a pie crust from scratch intimidates me. I've tried in the past, and just gave up. I don't know if I over work the dough or what, but that crust is never as flaky or melt-in-your-mouth delicious as I think it should be.
So, as Thanksgiving approaches, pie baking is not on my to-do list. I usually buy one from the grocery store bakery.
However, the other day when I was at Hy-Vee,I picked a couple of items off an end cap — Hy-Vee evaporated milk (77 cents) and Libby's canned pumpkin ($1.48).  I should be able to make something other than pumpkin pie using these ingredients, I thought.  
When I got home, it dawned on me that I better have the rest of the ingredients for whatever it would be that I would be baking. I was in no mood to go back out.
I sat down with my computer and started looking up recipes. My thought was to make some kind of pumpkin bar. There was a recipe that caught my eye, but I didn't have yellow cake mix on hand.  I continued to browse and found a recipe for pumpkin squares, and I had all the ingredients.
I would make it and have the family taste test it.  If it passed, then I would repeat the recipe for Thanksgiving.
This is what I made:
Pumpkin Pecan Pie Squares (www.verybestbaking.com)
Ingredients
1 cup all-purpose flour
1/2 cup old-fashioned or instant oats
1/2 cup packed brown sugar
1/2 cup butter or margarine, softened
3/4 cup granulated sugar
1 can (15 oz.) LIBBY'S® 100% Pure Pumpkin
1 can (12 fl. oz.) NESTLÉ® CARNATION® Evaporated Milk
2 large eggs
2 1/4 teaspoons pumpkin pie spice
1/2 cup pecans, chopped
1/4 cup packed brown sugar
Whipped cream
Directions
PREHEAT oven to 350° F.
COMBINE flour, oats, brown sugar and butter in small mixer bowl. Beat at low speed for 1 to 2 minutes or until crumbly. Press on bottom of ungreased 13 x 9-inch baking pan.
BAKE for 15 minutes. 
COMBINE granulated sugar, pumpkin, evaporated milk, eggs and pumpkin pie spice in large mixer bowl. Beat at medium speed for 1 to 2 minutes; pour over crust.
BAKE for 20 minutes. Combine pecans and brown sugar in small bowl. Sprinkle pecan topping over filling. Continue baking for 15 to 25 minutes or until knife inserted in center comes out clean. Cool completely in pan on wire rack. Cut into bars. Top with whipped cream.
(Note: the recipe calls for Carnation evaporated milk.  I used Hy-Vee brand.)
Well, the family agreed that this would be a great alternative to pumpkin pie.  It's a keeper.  Now we'll see if it meets my in-law's approval on Thanksgiving.