LJWorld.com weblogs Shop Talk with Jenn and Julie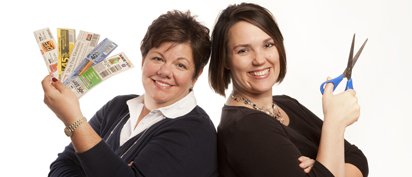 Aldi Produce Has Me in a Jam
I ran out to Aldi Saturday morning to grab some frozen fruit ... when I did a quick "fly by" on the produce I discovered their 1# containers of strawberries were only $0.99! What a deal! I bought up three containers, some grapes and bananas to throw together a quick fruit salad for the company were were having for dinner. I was kicking myself as I left thinking "I should be buying up more of those, what a great price!". I didn't buy them because I was assuming I wouldn't have the time to do much with them in the next few days; I'm trying to be more realistic about my time constraints this summer (go ahead, laugh).
The thought of these super-berries turned into an obsession and I kept thinking there had to be something easy I could do (besides freezing the strawberries, which I didn't want to do). Then I remembered that I have all of the canning supplies I would need to quick make up some jam! I LOVE strawberry jam and we haven't had any of our own homemade version for nearly two years!
I'm back to thinking I can do it all so I'll be making another trip to Aldi today in hopes that maybe I can snag some more strawberries to make us some Jam!
Canning (or freezing) is a great way to control what food you are giving to your friends and family AND a good way to save yourself money! According to my Ball Blue Book of Preserving, here is how you can whip up some jam for yourself too:
Ingredients:
2 quarts strawberries
1 cup water
1 package pectin (check your box to see if you will need to add sweetener)
Directions:
Wash, drain and hull strawberries. Crush the strawberries (I use my potato masher!) and measure out 5cups. Mix the strawberries, water and pectin together, stirring to dissolve the pectin. Bring the mixture to a boil and add whatever sweetener you are using according to the directions on your box of pectin. Boil for 1 minute, stirring constantly. If your mixture starts to gel and get too firm before the entire minute is up, pull it off the heat!
Laddle the hot jam mixture into hot half pint jars. Fill the jars leaving 1/4" headspace at the top of the jar. Remove any air bubbles from the jars, attach the two piece lids and then process for 10 minutes in a boiling water canner.
Results:
Approximately 6 half pint jars of jam for your pantry!
If you want to make this an even bigger family adventure, you can skip the Aldi shopping and head straight out to the strawberry fields and pick your own! There are lots of local "Pick Your Own" farms with all kinds of fruits, depending on the season. You can visit Pick Your Own.org to find information on farms near you. This website also has a lot of helpful information for first time canners!
Another option, if the above instructions are a little daunting, is to make freezer jam. I've never actually made this myself but I've seen recipes all over the place, including these at about.com. It looks very simple. If you have experience with freezer jam, or a favorite freezer jam recipe....please share!!
Just in case you aren't interested in, or are allergic to, strawberries.... you might also be interested in these other produce finds at Aldi:
Pineapples $0.99
3 pk. Colored Peppers $2.49 (This same package was $4.99 at Target!)
Mushrooms $1.50/package
I hope you have a great weekend...and enjoy that great produce!