LJWorld.com weblogs Shop Talk with Jenn and Julie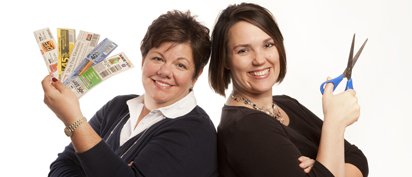 Sales and a Tax Free Holiday to Ease the Burn of Back to School Shopping
In 108 degree weather it is hard to think about anything other than the location of the nearest air conditioner, much less plan ahead for the upcoming school year ... or next year for that matter! The truth is: this is the best time of year to save money on clothes and supplies.
Even though we are still sweltering away, local and big box stores alike are starting to stock up on fall and Back to School clothing. This means that if you keep your eyes open, you can find great deals on this season's clothes. I like to browse the sales racks and pull great deals in next year's sizes for my kids. This weekend at Old Navy I found their kids' swim suits marked down to $5 and was able to purchase one for each of my two oldest kids that I can tuck away for next summer. I also found some shorts marked down to $3 and a couple of shirts for $2. MUCH nicer than the price tags they will have come next spring.
This time of year you will also find stores like JCPenney, Kohl's and Sears offering coupons for $$ off your in store purchase. If you plan ahead and combine these with sales they can be stretched a long way. The coupons range from $15/$25 purchase to even $10/$10 as the school year draws nearer.
Another great way to save money on clothing is to plan a road trip over to Missouri for the Tax Free Holiday. Every August Missouri hosts a "Tax Free Holiday" that allows tax exempt purchases as follows:
Clothing – any article having a taxable value of $100 or less
School supplies – not to exceed $50 per
Computer software – taxable value of $350 or less
Personal computers – not to exceed $3,500
Computer peripheral devices – not to exceed $3,500
This year Missouri's Tax Free Holiday is the weekend of August 5 - 7. I've shopped this sale before and I find that it is WELL worth the drive to Missouri. There are a LOT of people, it is CRAZY no doubt, but the sales on top of the Tax Free incentive is worth it to me. With a little pre-planning at home I can buy ahead for next year as well as find a few great deals on items we need right away and save a lot of money on our ever expanding "Clothe the Children" budget.
What are your best tips for saving money on Back to School expenses?